Cosmo Films is one of the largest Indian manufacturers of biaxially-oriented polypropylene (BOPP) films used for packaging, lamination, and labelling applications. Let us dive deep into the details of the financials.
The Story
Cosmo Films Ltd is into the production of biaxially-oriented polypropylene (BOPP) films used for packaging, lamination and labelling applications. They are also the largest exporter of these products from India. They are now getting into the production of biaxially-oriented polyethylene terephthalate (BOPET) films. In addition, it is into the production of masterbatches, specialty textile chemicals and pet-care business. As of today's date, this is Cosmo Films share price.
They have four manufacturing plants with a capacity to make 196,000TPA (tons per annum), 40,000TPA, 20,000TPA, 22,000TPA and 10,000TPA for BOPP, thermal, coating, metalizing and CPP films, respectively. Two plants are based in Aurangabad (Maharashtra), each in Vadodara (Gujarat) and South Korea.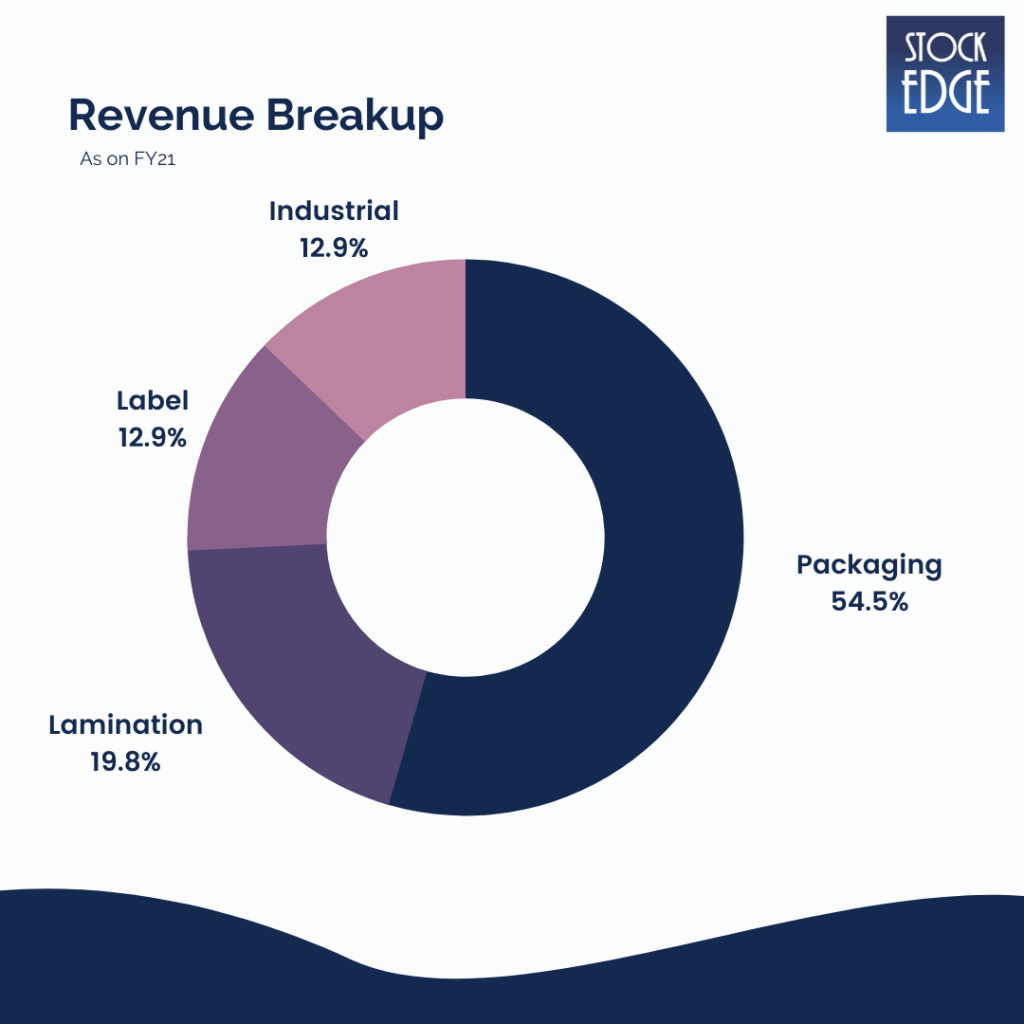 Let's Look at the Industry Scenario of the Packaging Market.
The global packaging market is projected to grow to USD 1012.6 billion by 2021. People are now more conscious about food packaging worldwide amidst this pandemic, due to which demand for packaging is set to increase.
According to the Packaging Industry Association of India, the India Packaging Market was is expected to reach USD 204.81 billion by 2025, registering a CAGR of 26.7% during 2020-25.
Packaging is amongst the high growth industries in India, and the country is becoming a preferred hub for the packaging industry. Currently the 5th largest sector of India's economy, the industry has reported steady growth over the past several years and shows high potential for expansion, particularly in the export markets.
In India, the fastest growing packaging segments are laminates and flexible packaging. Over the last few years, Packaging Industry has been an important sector driving technology and innovation, growth in the country and adding value to the various manufacturing sectors, including agriculture and FMCG segments.
The growth in lifestyle and consumption patterns has increased the demand for packaged products resulting in the growth of the packaging industry. Consumer awareness surrounding packaged food, specifically packaged food deliveries, has heightened. The boom in e-commerce and organized retail is expected to enhance the growth of plastic packaging and per capita consumption in the near future.
Let's try to understand each segment one by one!
Films Segment: The bi-axially oriented polypropylene (BOPP) films have high strength, elasticity, high barrier properties, resistance to various corrosive environments, and inertness, which are used to make flexible food packaging, adhesive tapes, labels, lamination applications, etc. Over the years, Cosmo Films has emerged among the top-4 global players in BOPP speciality films, the second largest global player in speciality label films and the largest global supplier for thermal lamination films and industrial application films.
Cosmo Films plans to launch products such as direct thermal printable film, sustainable polyvinylchloride (PVC)-free solutions for graphic applications, heat reduction films, and shrink label films for their future product pipeline. They are setting up the worlds' largest line for shrink labels and heat control films. These products serve as a substitute for non-recyclable PVC films used currently. The project will be set up at the cost of about Rs.400 crore, which will be financed with a debt: equity mix of 80:20, and the company expects a payback period of three to four years. The first line of the project will start production from Q2FY23.
Speciality Chemicals Segment: Cosmo Films plans to produce all Masterbatches for captive use and niche speciality focused for outside sale. Masterbatch is a concentrated mixture of pigments and additives used for imparting specific desired properties and colouring in plastic. These are further used in compounding. The target set is to reach 10% of the company's consolidated revenue in three years from Masterbatches with 20%+ ROCE. In addition, the company's subsidiary will soon start the commercialization of textile chemicals developed through in-house R&D.
They have plans to launch niche adhesive products and textile chemicals. They have already launched a consumer product, 'Fabritizer', which protects against viruses and bacteria on clothes. In addition, their research & development (R & R&D) department has completed the development of more than 20 textile chemicals products. They expect another 10% revenue contribution from these products within three years, with a 25% RoCE.
The size of the Indian Speciality Chemicals – Textile Applications & Adhesive market is USD 1.4 Billion. The market is growing by 12% p.a. Cosmo plans to cater to niche speciality focused either to address current problem area for the industry or significantly better product compared to currently available.
Pet-care Segment: Cosmo Films has entered the pet-care segment in Q2FY22 with the simultaneous launch of a website, the first mobile van and its flagship stores. They intend to follow a low CAPEX based business model, focus on brand building and will invest Rs15 crore in FY22. Over the next two years, Cosmo Films intends to expand its online and offline presence.
Pet care is scheduled to be launched in FY22 under the brand "Ziggy" uniquely on the Omnichannel platform. Indian pet care industry is a growing market due to smaller families, rising income levels and limited social lives. However, there is no large scale organized players in India offering end to end comprehensive solution to the customers. To tap the opportunity, Cosmo has planned a structured technology-savvy platform to address all pets' needs.
Check out our latest blog on "How to use 52 Week High/Low Levels in Trading?"
Let's look at the Financials of Cosmo Films.
Cosmo Films' revenue has grown by 23.71% from FY18 to FY21. Over the same period, its EBITDA margin increased from 9.98% in FY18 to 18.8% in FY21 due to a shift towards high-margin speciality products and improved operating efficiency.
Net profit has increased by 270% from FY18 to FY21. RoCE and RoE have risen from 8.94% and 10.85% in FY18 to 23.56% and 29.91% in FY21, respectively.
Debt: equity ratio has improved from 1.28 in FY18 to 0.9 in FY21. The debt: equity ratio is expected to remain elevated in the near future as it has embarked on a debt-funded CAPEX programme.
Cosmo Films' quarterly sales for Q3FY22 increased by 34.64% YoY on the back of higher specialty sales, better-operating margins and uptick performance by subsidiaries. In addition, enhanced EBITDA, lower finance cost, and lower effective tax rate led to an increase in PAT by 66.4 YoY%.
To get more detailed analysis and Reports on Stocks, visit our Edge Report Section by subscribing to our StockEdge premium plans.
Road Ahead…
Cosmo Films plans to change the packaging landscape by creating sustainable and intelligent packaging solutions. They anticipate that at-home food consumption and snacking could remain at higher levels than before the coronavirus outbreak for several more months, as more people permanently join the home-office trend. Because of this, flexible packaging will continue to be the critical end-use sector for BOPP film.
Their Speciality portfolio covers 62% of the revenue and 18% of the last three years. The target for the speciality portfolio is to contribute 80% by the year 2023. The Shift towards speciality will majorly de-commoditize the business model and enhance profitability.
Newer growth areas for Speciality are Synthetic Paper, Masterbatches and Textile Applications & adhesives. Synthetic paper is a durable alternative to paper. There is immense potential to grow as the global market size is 100k MT, and the Indian market size is 6k MT.
However, one thing to note is that for Cosmo Films majority of the revenue comes from BOPP Films. So there exist risks like raw material (polypropylene) price volatility, as it is a crude oil derivative that can impact margins. This also forms a significant part of the company's raw material cost. This makes the company exposed to fluctuations in crude oil prices.
Apart from that, currency risks exist as a good chunk of the revenue comes from exports. Then, its foray into the pet-care segment, through Ziggy, can also be considered a risk as they have no prior experience operating in a retail-focused business.
So we will have to wait and see how the company develops from here on out.
Until then, keep an eye out for the next blog and our midweek and weekend editions of "Trending Stocks and Stock Insights." Also, please share it with your friends and family.
Happy Investing!