In this weekend's blog, we place our spotlight on a company that is a process chemistry expert, i.e. Laurus Labs Ltd.
It is a rapidly expanding research-driven pharmaceutical company with three business lines — Generics APIs, Generics Finished Dosage Forms (FDFs), and Synthesis/Ingredients — that operate with globally benchmarked manufacturing capabilities and compliances.
It is one of the leading manufacturers of APIs for Antiretrovirals (ARVs), Oncology, Cardiovascular, Anti-Diabetics, Anti-Asthma, and Other Therapeutic Segments.
The company is into the development and manufacturing of oral solids formulations, as well as providing Contract Research and Manufacturing Services (CRAMS) to global pharmaceutical companies. The company is also into the production of specialty ingredients for nutraceuticals, dietary supplements, and cosmeceuticals. As of today's date, this is Laurus Labs share price.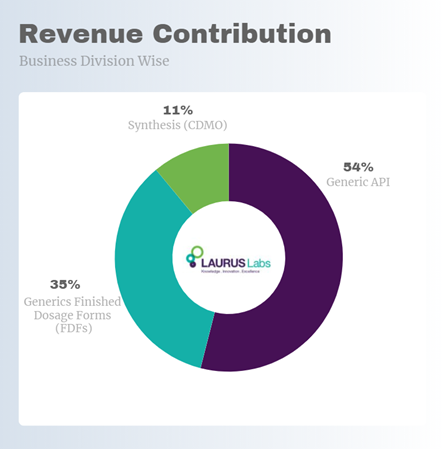 How Was Laurus Labs Ltd. Formed?
Laurus Labs was established in 2006 with an initial seed capital of Rs.60 crores by a chemist and repeat entrepreneur, Dr. Satyanarayana Chava, who has three decades of experience in the pharmaceutical industry. Dr. Chava worked as the Chief Operating Officer for Matrix Laboratories Limited prior to founding Laurus Labs.
By 2008, Laurus had begun its decade-long journey in APIs. These are the chemicals or the key ingredients used in drugs. Treatment for retroviruses such as HIV was an emerging area, and the company focused on this niche with efavirenz as its main product. It was the company's best-selling product, accounting for half of all revenue until 2018. Laurus supplied 1,500 tonnes of a total requirement of 3,600 tonnes. That was the first time Laurus experienced a business disruption that caught smaller players off guard.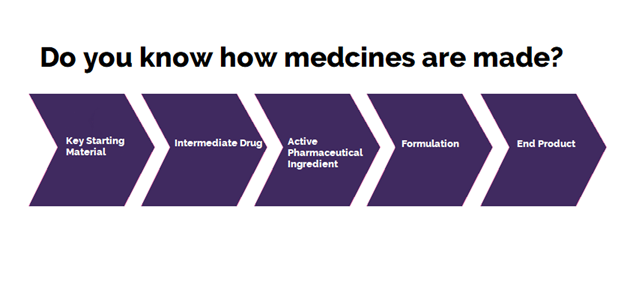 Journey in 15 years of Laurus Labs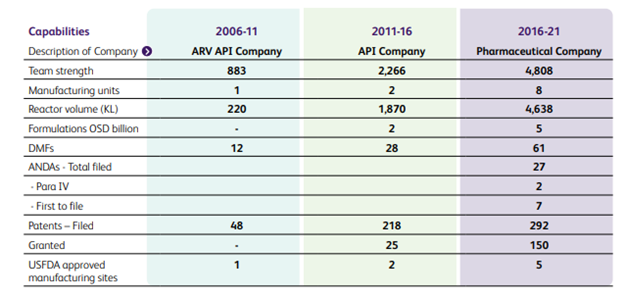 Financial & Operational Highlights of Laurus Labs
The company reported growth of 70% in FY20-21 at Rs.4814 cr as compared to Rs.2832 cr in FY19-20. The growth was due to strong growth across segments and optimum capacity utilization.
EBITDA was Rs.1573 crore, a growth of 176% as compared to Rs.570 cr in FY19-20. The margins improved due to a better product mix, improved operating leverage, and prudent cost management initiative.
PAT was Rs.984 crore, a growth of 286% as compared to Rs.255 cr in FY19-20. The growth was due to strong operational performance and a reduction in finance costs.
Shareholders' Funds Shareholders' Funds increased to Rs.2597 crore in FY20-21 from Rs.1770 crore in FY19-20 mainly due to an increase in profits.
The debt-to-equity ratio was 0.56 in FY20-21 versus 0.60 in FY19-20. The gross carrying value of Fixed Assets increased to Rs.2696 crore in FY19-20 primarily due to the capitalization of additional blocks in the existing facilities and acquisitions.
ROCE stood at 40.1% in FY20-21 as compared to 14.1% in FY2019-20 due to operational leverage and higher asset utilization.
Return on Equity stood at 45.1% due to an increase in profitability and efficient usage of capital.
API growth is being driven by higher growth in the ARV API business, which is being driven by a higher volume of first and second-line products.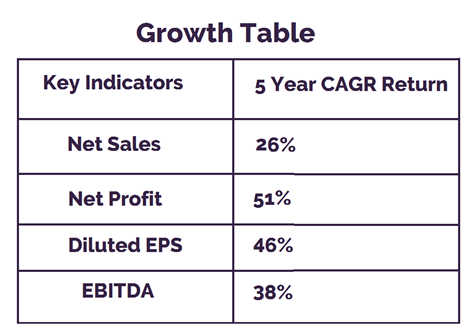 Future Outlook
The steady growth in oncology API, being a high margin-low volume segment, is expected to drive margins, supported by one of the largest high-potent API capabilities in India.
Growth in API has resumed with the launch of first-line products – 3TC (Lamivudine) and DTG (Dolutegravir) and supply of APIs to EU and North America and will be driven by the introduction of second-line APIs such as Lopinavir and Ritonavir launched in FY21.
The management expects revenue to double from the recently acquired Richcore Lifesciences (renamed Laurus Bio) operations in FY22. It is in the process of acquiring land for further expansion by creating close to a million liters of fermentation capacity.
LAURUS initiated the validation of several APIs in the non-Oncology and non-ARV API segments. It is adding manufacturing capacity to drive growth beyond FY23.
Management Update
There will be no significant debt taken on to fund additional capex.
The expenditure incurred on Research and Development ` 179 Crores (Opex), ` 5 Crores (Capex) and Total ` 184 Crores, which is 3.8% of sales in FY21.
The management guided at a capex of INR1500-1700 cr over the next two years. Out of which the Company has undertaken expansion with a capex of Rs.689 crore. About 50%/30%/20% of capex is to be invested in the API/FDF/CDMO segment.
The debottlenecking exercise in FDF has been completed in Mar'21 and the commercial benefit will accrue from 1HFY22 onwards. By September 2021, the new manufacturing block will be ready for use.
Recent Update
CARE Ratings upgraded the company's long-term banking facilities to CARE AA from CARE AA-, with a stable outlook. In a press release, CARE Ratings said: "The revision in the ratings assigned to the bank facilities of Laurus Labs is on account of significant improvement in the total operating income and profitability margins during FY21 driven by volume sales under Formulation Dosage Forms (FDF) and Generic Active Pharmaceuticals Limited (API) such as anti-retroviral and oncology segment, generation of healthy cash accruals providing the adequate liquidity comfort, continued incremental demand from existing clientele in non-ARV (Anti-retroviral) segment, completion of strategic acquisitions to augment growth in formulation and synthesis division,".
Technical View
Laurus Labs is making a retest to the breakout area in the hourly chart and any pullback to the 635-640 zone is likely to act as a favorable risk-reward area, Technical parameters, and volume buildup looks quite positive and likely to see further strength if the stock holds above support area.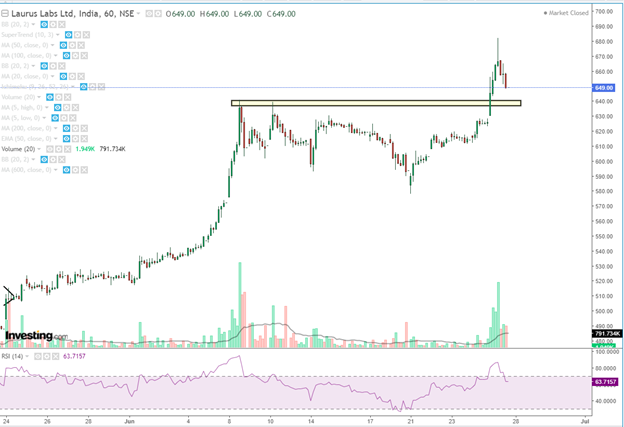 Bottomline
Laurus is well-positioned to follow in the footsteps of some of the industry's most successful CDMOs, thanks to its excellent chemistry and integrated strategy. The company would gain from a) debottlenecking in FDF, b) capacity expansion in the non-ARV segment, c) improved prospects in the Synthesis segment, and d) scale-up in the Enzymes/Biologics section in the future. Its exceptional ARV execution, strong chemical skill set, which is driving the CDMO business, the inclusion of new compounds in the Other API segment, cost efficiency supporting profitability, and addition of new levers in CDMO with Laurus Bio will all help the company grow.
Know more about Laurus Labs Ltd. and its peers by using the Sectors tab in the StockEdge Web
Check out StockEdge Premium Plans.
Disclaimer: This document and the process of identifying the potential of a company have been produced for only learning purposes. Since equity involves individual judgments, this analysis should be used for only learning enhancements and cannot be considered to be a recommendation on any stock or sector.
Visit StockEdge blogs section to read more blogs.