In today's blog, we place our spotlight on Grasim Industries Limited which is the flagship company of the global conglomerate Aditya Birla Group.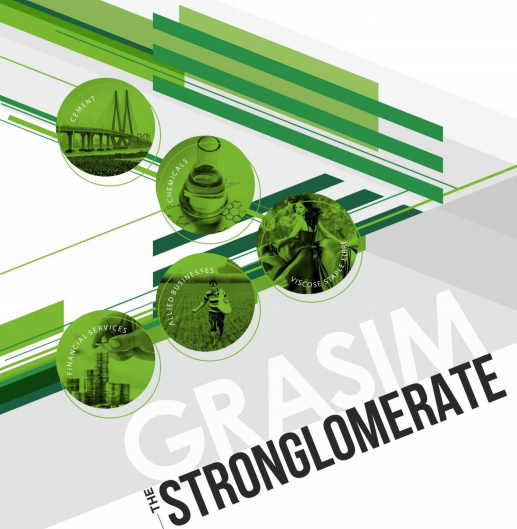 Incorporated in 1947, Grasim Industries Limited started as a textiles manufacturer in India. Today, the company has evolved into a leading diversified player with a strong presence across many sectors. As of now, this is Grasim Industries share price.
Viscose Staple Fiber (VSF), which is a natural and biodegradable fiber that has characteristics that are similar to cotton is widely used in apparels, home textiles, dress material, knitted wear and non-woven applications. VFY is a natural fibre which can be made to resemble silk, cotton and wool and is used for manufacturing georgettes crepes and chiffons.
Currently, it is one of India's largest caustic soda producers and is a market leader in the chlor-alkali segment from chlorine derivatives to epoxy.
It is also India's largest cement producer and a leading diversified financial services player through its subsidiaries, UltraTech Cement and Aditya Birla Capital.
It is the largest Chlor-Alkali, Linen, and Insulators player in India, as well as a leading global producer of Viscose Staple Fibre.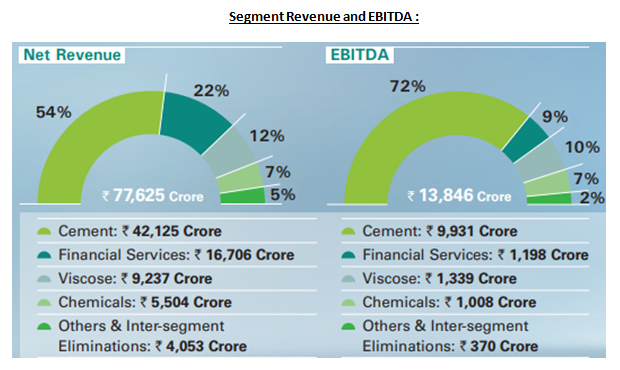 To know more about this company and increase your understanding about fundamentals of the company, Click Here
Operational Highlights of Grasim Industries Limited
In Q3 FY21, EBITDA grew by 24% QoQ, Revenue grew 17% QoQ, PAT grew 43% QoQ on the sale of fertiliser business. The revenue from operations increased by 12.7% YoY to Rs 20,986.4 crore and the net profit also expanded by 107% YoY to Rs 2,152.3 crore.
In Q3, revenue from the Viscose and Chemical business stood at Rs 2,145 crore and Rs 1,281 crore, respectively. Going forward, the debt position would improve with the proceeds coming in from the sale of the Fertilizer business. Textiles revenue grew 49% QoQ and EBITDA improved from Rs 22 cr loss to Rs 1 cr loss.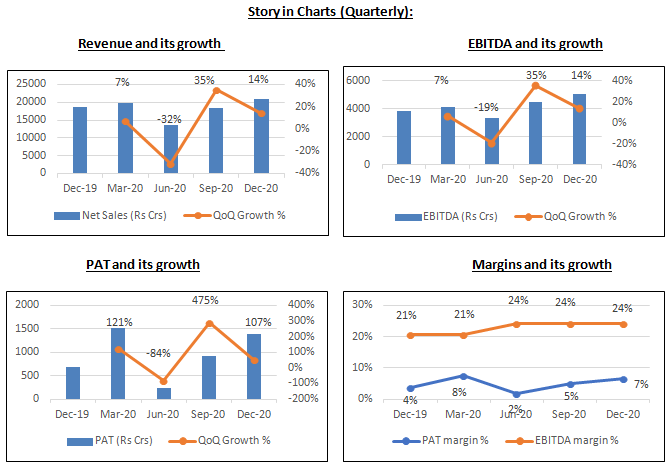 Insulators revenue grew 15% QoQ and EBITDA grew 39% QoQ.
Ultratech Revenue grew 17% QoQ while EBITDA grew 57% QoQ. Ultratech cement plans to spend ₹ 5,477 Cr. toward capacity expansion of 12.8 MTPA through a mix of greenfield and brownfield expansion, in addition to 6.7 MTPA capacity addition which is underway. Upon completion of both rounds of expansion, the capacity will expand to 136.25 MTPA. Aditya Birla Capital's revenue and net profit after minority interest for Q3FY21 increased by 17.1% and 15.6 percent, respectively, to Rs.5,026 Cr. and Rs.289 Cr. Pulp Revenue grew 19% QoQ and EBITDA grew manifold. Net Debt to EBITDA reduced 39%.
During the Q3FY21, the company has spent ~Rs. 519 Cr. on Capex. The 9MFY21 capex stood at Rs 799 crs. Capacity Utilisation for Q3FY21 – VSF: 100%, Caustic Soda: 89%.
Segment
EBITDA growth of 115% Q-o-Q and 122% Y-o-Y by VSF business driven by cost management (by 29%) and volume growth supported by a bounce back in demand.
Revenue and EBITDA of the Chemicals business touched the pre-COVID-19 level with pick up in the sales volume and lower input costs but overall dragged lower. The Chlor-alkali EBITDA was impacted by continued weakness in ECU realisation. Chlorine demand remained stable in the third quarter, but realizations weakened slightly due to excess domestic capacity and high operating rates.
Caustic soda prices (CFR) in Asia, on the other hand, grew from lows of $239/MT to $270/MT by the end of the quarter, owing to lower operating rates.
Chlorine value-added products witnessed some pressure in the realization and demand weakness in the health and hygiene segment. Better realizations drove a 45 percent increase in EBITDA from Chlorine derivatives year on year.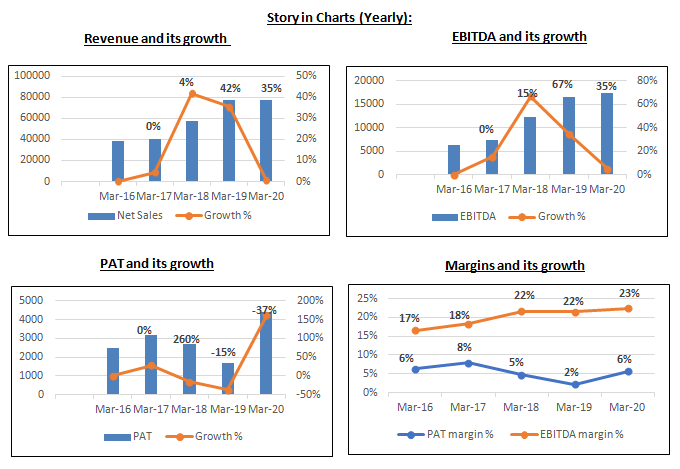 Capex
The company has approved a Capex of Rs 559 crs in Viscose Staple fiber (VSF) and Rs 135 crs as maintenance CAPEX for a capacity expansion from 578 KTPA to 801 KTPA.
The company has approved a Capex of Rs 283 crs in the Chemical segment for a capacity expansion from 1147 KTPA to 1457 KTPA.
The company has approved a Capex of Rs 48 crs in other businesses too.
Grasim Industries Limited – Future Highlights
Due to lower VSF & Yarn prices compared to cotton and better profitability for the value chain, this has resulted in a shift in looms from cotton to VSF in major textile hubs of India
Strong consumer demand coupled with huge gap vis-à-vis cotton pricing in China has resulted in higher VSF prices, China VSF prices rose from ~10,900 RMB in Dec-20 to ~13,800 RMB towards the end of Jan-21 (27% increase)
Orders resumed post covid with business shifting away from China to other Asian countries like India. Viscose prices moved up in double-digit. Despite improving operating rates, inventory has dropped to historic lows, reflecting significantly improved market sentiment for Viscose.
Grasim forays into the decorative paints business, with an initial Capex amount of Rs. 5,000 Cr. over 3 years being a high RoCE business. Wants to become a number 2 Player in the decorative paints segment.
Read our latest article on IDFC First Bank Limited – Building a Strong Foundation for sustainable growth
Technical View
Grasim Ltd is consolidating in a rising channel and is likely to see further strength till the stock holds the 1380 level. Probable resistance in the near term comes at the 1530-1550 zone from the upper line of the channel. Technical parameters look positive till now. Any level close to the 1380-1400 zone may be looked upon as a favorable buying zone for the near term.
Conclusion
The company has shown a good recovery in performance with cost optimization efforts. The management has planned new CAPEX in almost all the segments expecting it to be revenue accretive over a longer period of time.
Know more about Grasim Industries Limited and its peers by using the Sectors tab in the StockEdge Web
Check out StockEdge Premium Plans.