Let's discuss about days of receivables:
An often used parameter when it comes to studying the fundamentals of a company is financial ratios. A financial ratio is a representation of selected numerical values taken from a company's financial statements. Financial ratios help in deciding the innate strength of the company. There are a lot of ratios used for valuation analysis of a company. We will understand how days of receivables impact the financials of a company.
Also Read :
You can also watch the video below on Everything you want to know about Days of Receivable:
Impact of Days of Receivables
Days of receivables is the average number of days that a company takes to collect the payment after a product has been sold or the services have been delivered. It simply means the time taken to receive the cash after the sales has been completed. It illustrates how well a company's accounts receivables are being managed and how fast it is receiving the complete payment.
Exceptions
Historical data may not always be a fool proof way towards future perception as the industrial and economic conditions may wary every year especially for the cyclical stocks. The past payment history of creditors is no guarantee of the future.
Formula
Days of Receivables= (Average Accounts Receivable/Credit Sales) *365
Say for instance, a company A is due to receive Rs. 3 lacs out of a credit sales of Rs. 10 lacs, then days of receivables would be 3/10*365 which is 109.5 days which means it will realize its entire sales in 109.5 days.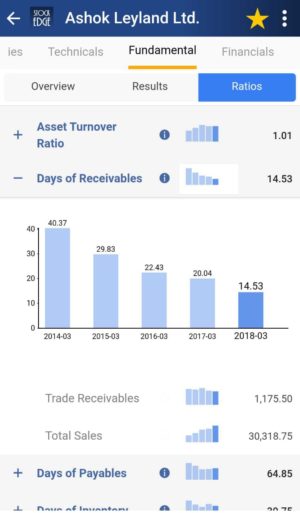 With stock edge app we don't have to calculate Days Receivable data on our own. StockEdge gives us Days receivable data of the last five years of any company listed in the stock exchange with a click in seconds. We can look and compare Days Receivable data of any company and filter out stocks accordingly.
Suppose we want to look at the Days Receivable data of Ashok Leyland for last 5 years. In the home page under stocks type Ashok Leyland, click on the fundamentals tab, we will get Ratios tab. Then in the Ratios tab click on Efficiency Ratios, Days receivable data will be seen of Ashok Leyland for 5 years simultaneously.
Bottomline
Days of Receivables are an important parameter which tells us whether the company is able to generate cash in time from its sold goods. This data is easily available under ratios section of each share freely. We also have scans based on Days of Receivables , with the help of these ready-made scans you can with the click of a button filter out good companies.  These scans are part of the premium offerings of StockEdge app.
Click here to know StockEdge membership.