Sugar stocks have been the one sectoral narrative that many of you would not have missed in the last few months, particularly since the beginning of 2021. Most of the sugar stocks, even the smallest ones, have consistently hit 52-week highs and outperformed the Benchmark Indices, i.e. Nifty and Sensex. As of today's date, this is Balrampur Chini Mills share price.
These cyclical stocks have soared as a result of regulatory changes, a global sugar shortage, and the government's new demand for Ethanol, a byproduct of the sugar refining process.
The sector has transformed to a structural growth sector backed by the government's aggressive ethanol blending programme.
In this weekend's blog, we talk about India's second-largest sugar manufacturing company i.e. Balrampur Chini Mills Limited.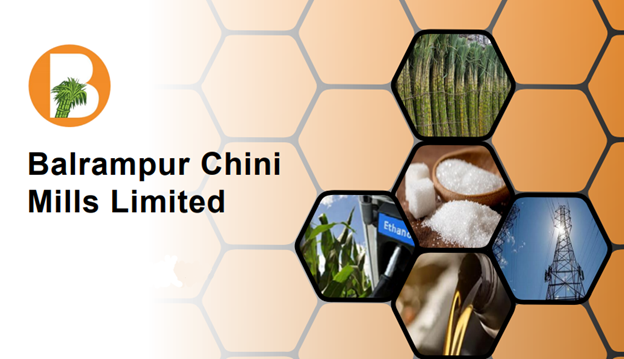 Source: Investors Presentation
The Story
Incorporated in 1975, the company started with a single mill in Balrampur with a cane crushing capacity of 800 tonnes per day. And today it is one of the largest integrated sugar companies in India with 10 factories with about 76,500 tonnes per day crushing capacity while its distilleries possess an aggregate capacity of 520 kiloliters per day and cogeneration capacity of 278.47 megawatts (saleable 165.20 megawatts).
The company's transformational journey began when Kamal Nayan Saraogi (the businessman) decided it was not possible for him to stay and work in the remote town of Balrampur, Uttar Pradesh.
So his wife, Meenakshi Saraogi, an educated housewife dedicated to running the household, raising children, decided to relocate to Balrampur and take over the running of the family-owned sugar company.
Despite having no prior experience, she was transforming the company and expanded it by acquiring additional sugar mills and adding new lines of business (such as cogeneration, production of ethyl alcohol and ethanol).
The company's allied businesses include the production of downstream products such as ethanol, power (co-generation), alcohol, molasses, and bagasse. It sells its products in India and exports according to government quotas.
Its business portfolio consists of manufacturing and marketing of sugar, and also manufacturing and marketing of organic manure. In 2020 the company commissioned a 160 KLPD distillery at Gularia to manufacture ethanol.
It is headquartered in Kolkata & currently led by Mr. Vivek Saraogi, who is the Managing Director, with more than 31 years of experience with the company as well as the sugar sector.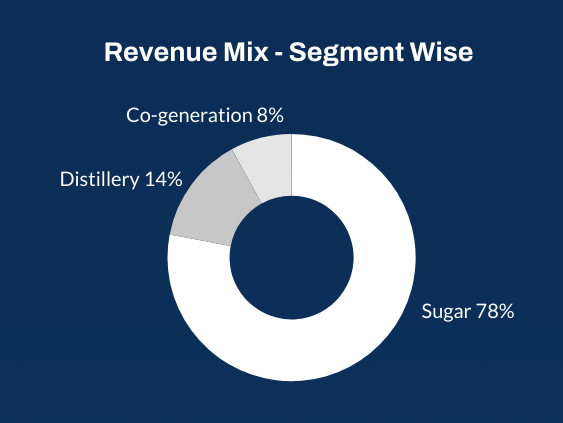 Operational Highlights of Balrampur Chini Mills Ltd.
The company saw a 41.4 % decline in sales (reported a net sales of Rs.1019.36 Cr), mainly due to the absence of sugar exports during the quarter. Due to red rot disease in the company's catchment area, lower sugarcane yield resulted in lower sugar production during the current crushing season.
The company sold 1.9 million tonnes of sugar for Rs.32.1 / kg. Due to peak crushing, sugar realisations were muted during the quarter season, as well as low winter demand.
EBITDA was at Rs.332.24 crore, a growth of 37.67% YoY. EBITDA margin was 32.59%, an expansion of 2380 bps YoY.
PAT declined by 2.58% YoY and was at Rs.232 crore.
As on 31st March 2021, the working capital stood at Rs.891 crore.
Total debt for the company declined by ~Rs.250 crore.
During the year, 11.7 lakh quintals of sugar was sacrificed, i.e., it diverted 65.4% sugarcane to B-heavy molasses.
It produced ~17 crore litres of ethanol, out of which ~16.5 crore litres were supplied.
Revenue from operations fell 1.48% to Rs.4811.65 crore in 2020-21, compared to Rs.4741.29 crore in FY20.
The company's profit for 2020-21 fell 7.6% to Rs.479.79 crore, down from Rs.519.35 crore in FY20.
Future Outlook
The company targets more than 12% recovery rate for the next sugar season. Sugar cane crushing is likely to decline by 7%-8% to 950 lakh quintals.
Its contribution from the distillery segment will continue to expand. Blending target for the next sugar season is ~10%. Despite a significant decline in sugarcane crushing, the company would be able to grow earnings in FY22 due to strong distillery revenue generation.
It is focusing on B-heavy ethanol over C-heavy being margin and price accretive.
It is reducing its dependence on the CO-0238 variety and shifting its dependence to other high sucrose yielding varieties such as 118 and others. It is developing an in-house high yielding variety of sugarcane, which is expected to be commercialized by FY22-23.
Over the next 2-3 years, it expects to witness steady growth in cane availability with improved varieties.
CAPEX: It is setting up 320 KLPD (kilo litre per day) distillery at Maizapur, which is likely to be operational by November-December, 2022, taking the total ethanol capacity to ~29.5 crore litre. Post expansion, the company will have the flexibility to convert entire sugar into ethanol.
The investment outlay for the same is ~Rs. 425 crore, for which it raised a debt of ~Rs.220 crore, with an interest subvention of 50%.
Tax rate guidance for FY22, is likely to be in the range of 20%-23%.
Due to the adverse weather conditions, Brazil is expected to produce much lower sugar in the current season. This is likely to help India to export higher quantities thereby moderating the inventory levels.
In January 2021, the Government announced its plans to achieve 20% ethanol blending in fuels by 2025, reducing the timeline by 5 years. This is expected to bode well for the company which is aggressively focusing on ethanol production.
Risks
Any disruption in the sugar blending programme could adversely impact distillery earnings.
Other concerns: cyclicality in the sugar business; exposure to a stringent regulatory environment and government intervention; lower than expected sugar exports and lower recoveries can have adverse impact.
Technical View
Balrampur Chini taking support right at the uptrend and Kijun Sen line. Likely to stay positive and see bounce in the near term if the stock holds 330-335 zone. RSI also takes support right at the mid 50 level and there is a possibility of bounce looking at the setup. Immediate resistance comes at 365-368 zone and we may see further strength above swing high of 370 level on a closing basis.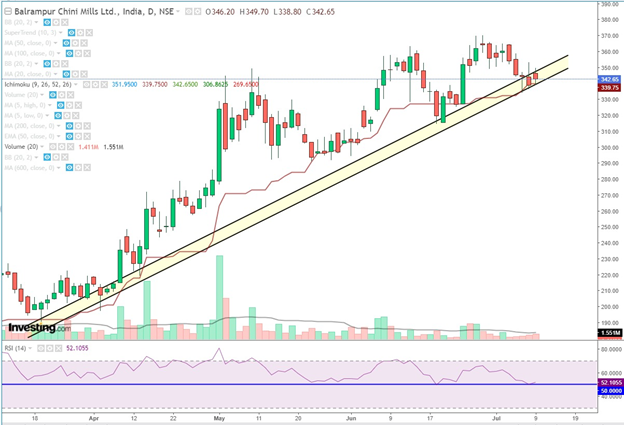 Bottom line
The company will benefit from its established market position and superior operating efficiencies in the sugar business, as well as an increasing contribution from the more stable and higher margin distillery business.
The significant opportunity in the ethanol blending programme, as well as the government's intention to accelerate the transition to an ethanol-based economy by advancing the 20% ethanol blending target from 2030 to 2023, are likely to bode well for the company, which is aggressively focusing on increasing its revenue share from the distillery segment.
Know more about Balrampur Chini Mills Ltd. and its peers by using the Sectors tab in the StockEdge Web
Check out StockEdge Premium Plans.
Disclaimer: This document and the process of identifying the potential of a company has been produced for only learning purpose. Since equity involves individual judgments, this analysis should be used for only learning enhancements and cannot be considered to be a recommendation on any stock or sector.