The Story
TCI Express is a leading express logistics company that provides Door-to-Door Express Distribution Services in Indian and international markets. They specialize in providing time-definite solutions to Tier II and Tier III cities, i.e. a delivery or freight service that specifies or guarantees delivery on a specific day or time of day. In fact, they were the first to introduce the concept of a customer-focused multi-technology and multi-specialist transportation system.
TCI Express was formed in 2016 as a result of the demerger of TCI XPS from Transport Corporation of India Ltd. It has a network that spans 708 districts across India.
TCI Express has been successful in aggregating a wide range of services under one roof over the years, allowing the company to expand its operations around the world. They had established a presence in over 200 countries thanks to its extensive IATA (International Air Transport Association)-approved agent network. IATA represents 290 airlines from 120 countries, accounting for 82% of total air traffic.
TCI Express has built an effective Hub & Spoke distribution model through its well-spread feeder (2500+) and service route network, backed by an extensive network of company-owned branches.
Furthermore, the Company has established a dedicated Customer Service department to ensure a quick and timely response to various customer queries as well as effective online cargo tracking, allowing them to know the location of their package at any time. You're probably wondering what Hub & Spoke distribution model is. Don't worry; we'll explain everything to you.
Let us try to understand what Hub and Spoke Model is!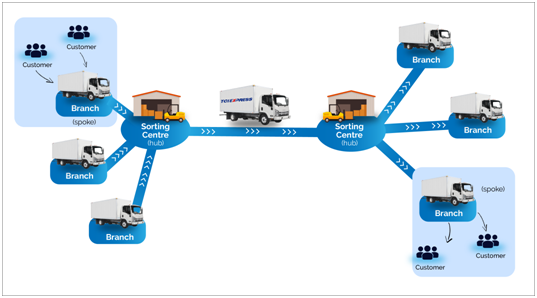 The hub and spoke model is a distribution method in which a centralized "hub" exists. Everything either originates in the hub or is sent to the hub for distribution to consumers. Goods travel from the hub to smaller locations owned by the company, known as spokes, for further processing and distribution.
What is working well for TCI Express?
Established network and asset-light business model
With over 800 branches, vendor tie-ups for 5,000 containerized trucks, 28 sorting centers, and a whopping 40,000 locations, they have an enviable and difficult-to-replicate network presence. The company operates on an asset-light model, relying on multiple small truckers to meet its fleet needs. This enables the company to generate higher return ratios by investing in critical value-added areas such as technology.
TCI Express, unlike its competitors, does not use a franchise model and owns all of its branches.
Because branch infrastructure is typically leased, it allows the company to stick to its asset-light strategy. The initial set-up cost and operating expenses are typically low, with a new branch typically breaking even within two months of opening. For the next few years, the company plans to open 100 new branches per year.
Having its own branches in multiple locations with company staff allows TCI Express to easily target customers and extract more business from the market. Across its branches, the company adheres to a 'rate card.'
Increased business from B2B segment
TCI Express's entire business is geared toward B2B clients. The latter, particularly SMEs, are loyal customers who do not switch Logistics providers based on low pricing. This would ensure volume growth while preserving the margin profile. In the B2C segment, the company would concentrate on e-commerce customers while avoiding major margin dilution in order to gain business. The share of B2B is expected to remain stable over the next few years, ensuring performance stability. It operates in the fast-growing surface segment, which is the most cost-effective and is expected to grow faster than Air Express.
Investing in the right places for long-term growth
TCI Express has budgeted Rs.400 cr. in capital expenditures over the next five years (with Rs.200 cr. already spent) for sorting centers, automation, and enhancing its technological capabilities. This would allow the company to compete more effectively and provide superior service to its customers. Rather than owning its fleet, which is easily obtained from small unorganized players, investing in sorting centers would provide better control over its operations and increase efficiency. The management would continue to lease new branch offices in existing markets in order to deepen its presence in those markets. These investments would pave the way for long-term profitable growth that is sustainable.
The client base is well-diversified.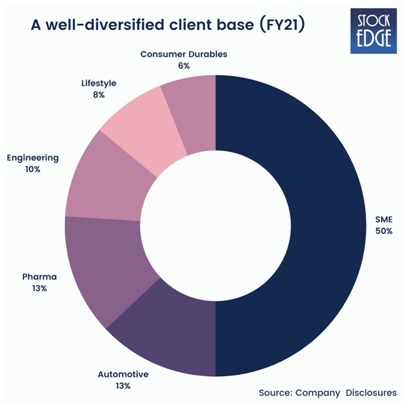 Its client mix is very diverse, highlighting TCI Express's experience dealing with a diverse set of industries with very different Logistics requirements in terms of packaging, handling, and so on. This gives it the ability to grow and protects its business during downturns. Around half of revenue comes from the SME segment, with no single client contributing significantly to revenue, which is a big plus.
Diversifying revenue streams through the introduction of new value-added services
TCI Express successfully launched the 'Cold Chain Express Service' during Q4FY21, a new value-added service aimed at catering to Pharmaceuticals and Frozen Food Packaging companies to meet the growing demand for Cold Chain logistics.
This new service makes use of the company's existing hub and spoke network, resulting in greater utilization of the company's existing assets and network. As the Cold Chain Express service will make use of existing assets such as an office, and IT setup, a network, and locations, additional investments will only be made to appoint separate teams to drive the business offering.
Under the new service, the company provides logistics services to pharmaceutical companies by dispatching shipments such as Frozen (Blood Plasma) and Vaccines at the prescribed temperature as required by the norms and ensuring that the temperature does not fluctuate during transit.
Temperature monitoring is done with Data Loggers, and real-time monitoring is done with Tracers. The delivery vehicles are tracked using GPS, and the customer receives real-time data.
TCI Express is aiming for a business opportunity with the launch of Cold Chain Express service, which has an estimated market size of $200 billion.
C2C Express Service
During Q4FY21, TCI Express also launched the C2C Express service. The company offers customer-to-customer express service with multi-location pick-up and delivery as part of this new service.
TCI Express has formed two separate teams to spearhead this new business offering. The new services will diversify the company's revenue stream and are expected to drive the return ratios due to increased utilization.
Let's look at Financials
TCI Express's top-line revenue has grown steadily from Rs 750 cr. in FY17 to Rs 844 cr. in FY21. However, Net revenues in FY21 were down 18% year on year, as volumes fell 21% year on year as business was hampered during the H1-FY21 due to lockdowns caused by the Covid-19 pandemic. PAT grew by a whopping 173% from Rs.37 crore to Rs.101 crores. The growth has been so exceptional that the company's share price has grown by158.41% in the last 2 years. As of today's date, this is TCI Express share price. The company has strengthened its balance sheet by reducing total debt. Over the years EBITDA margins and PAT margins have improved dramatically.
Quarterly Performance
TCI Express delivered a strong 2QFY22 performance, with topline growth of 28 % year on year, driven by a 26 % increase in volumes handled. As a result of higher volumes and improved efficiency, margins increased to 16.6 % in the second quarter of FY22, resulting in a 39 % increase in EBITDA. Therefore, PAT increased by 45 % on a year-on-year basis to Rs.34 cr.
The company launched new offerings such as Rail Express which provides high-value services at a lower cost as compared to air transportation in order to compete with the Air Express segment of its competitors. The new Rail Express service will undertake door-to-door pick-up and delivery of smaller cargo from B2B customers.
Road Ahead…
In FY22, management anticipates revenue growth of 35-40% year on year. As manufacturing activity improves, volumes are expected to rise. This will result in a revenue CAGR of 18-20% for the company between FY22 and FY23. The management expects the new segments (rail express, C2C customer to customer express, and pharma cold chain) to contribute a quarter of total revenue over the next five years, up from 15% now. With increased volumes and improved efficiency as a result of investments in sorting centers and automation, EBITDA margins are expected to rise to 22% in FY25 from 16% in FY21.
Until then, stay tuned for the next blog and keep watching this space for our midweek and weekend editions of 'Trending Stocks". And, if you liked the way we represented TCI Express's story, show us some love by sharing it with your friends and family. Until then, take care and happy investing!