In this new competitive digital world, it is next to impossible to get an edge over our competitors. Surviving in such competition, finding that one key success factor that differentiates you from others and creating and growing multiple KSFs (key success factors) from that one KSF is what the people behind this new happening application believe in- StockEdge.
In today's world, the stock market has a very important role to play in a normal human being's life. Everyone is in some way or the other related to the stock market. Whether it's the retail investors or the big institutional investors or even a normal businessman who is not involved in the stock market needs to keep a track of the stock market.
Before taking any major decision of your life, you do the basic research about it, right? Then why not stock market? So if you are planning to pick any stock or enter into the stock market, you must do the basic research about it.
StockEdge is an end of the day analytical software that allows you to do your homework properly, i.e. proper analysis of the stock with all the tools available with just a few clicks.
Let us brief you with the overview of the tools-
1. Daily Updates Section: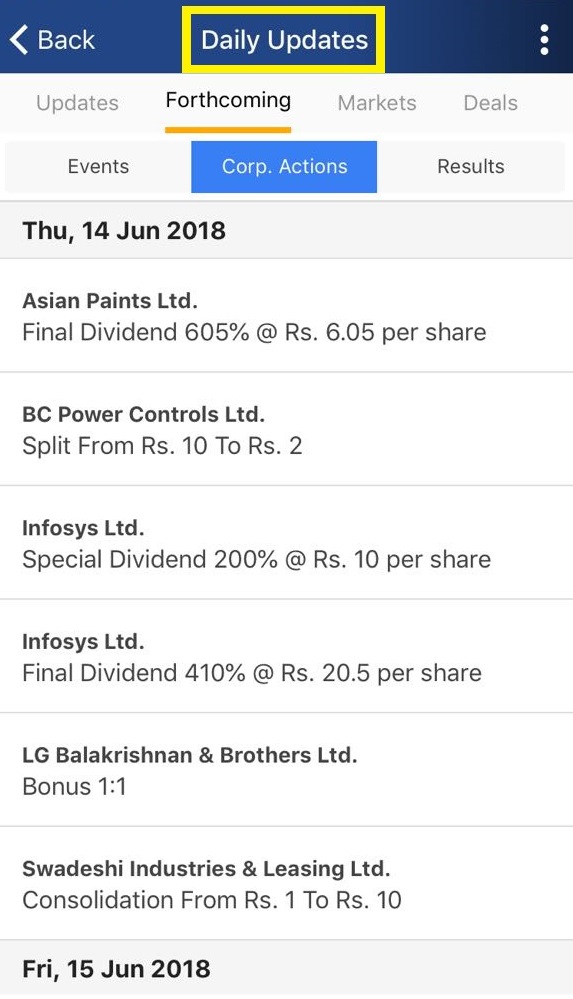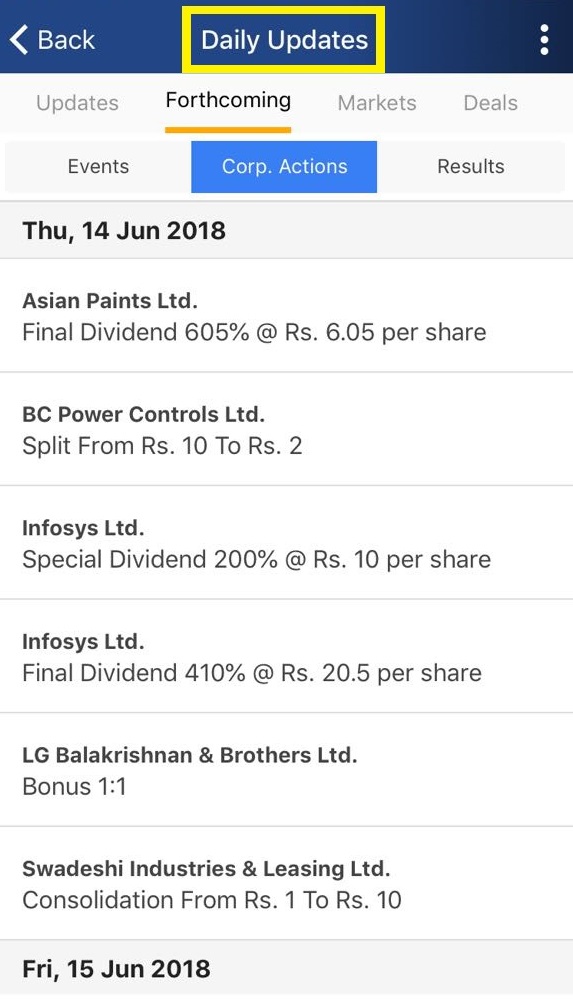 This is a very important section of the StockEdge. If you want lesser noise and much more filtered information, daily updates section is the perfect place to go for. There are different sub-sections in this section. An important sub-section is the news section where you'll get all the information with no noise and much-filtered manner.
Other major sub-sections are the announcements, forthcoming events, corporate actions, bulk and block deals, results of various companies etc.
2. Stocks Section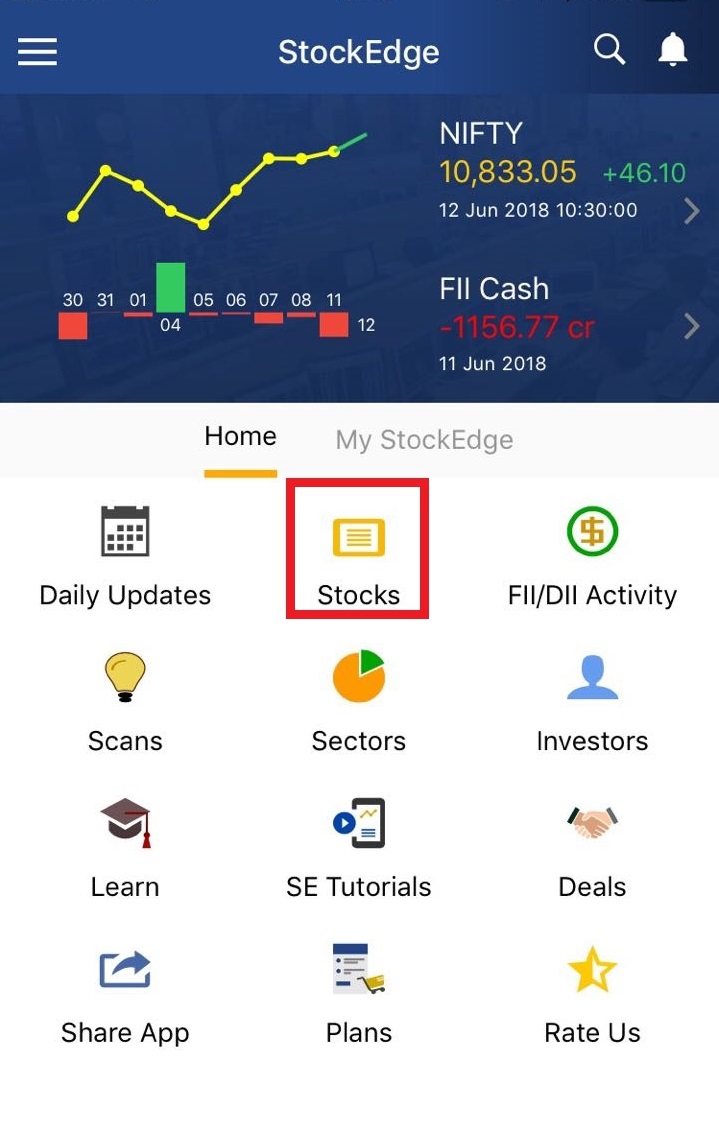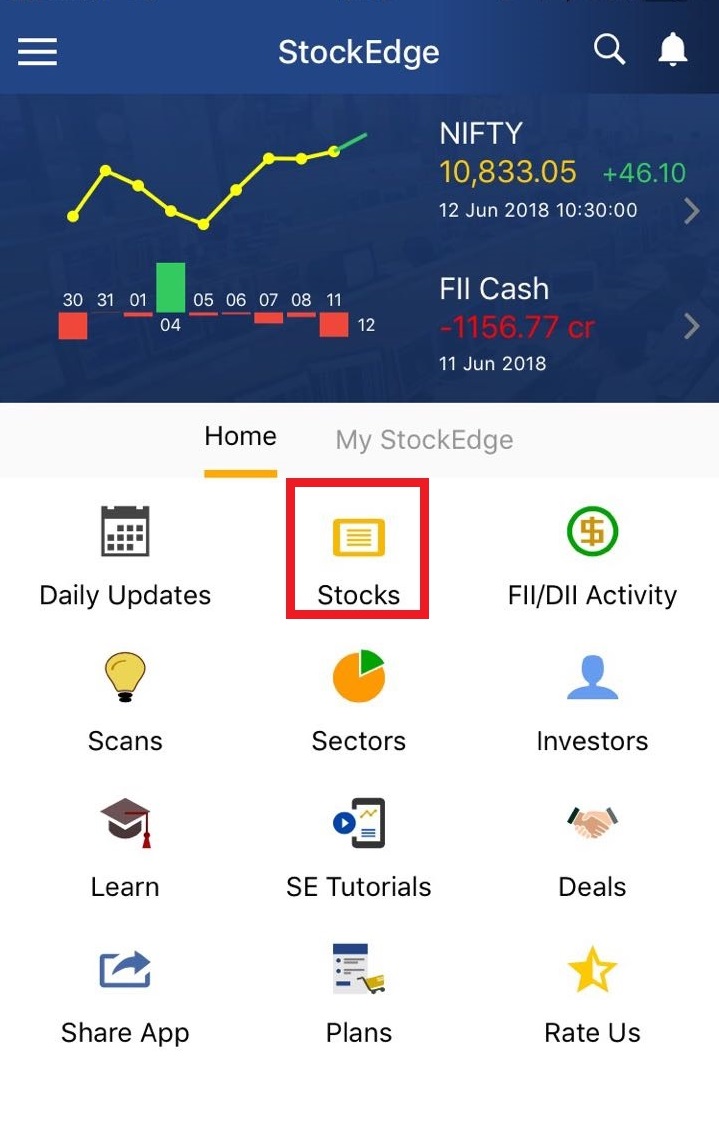 This section lets you get a 360 degree perspective on any stock in less than 5 minutes. You'll be able to access the price chart in terms of the major levels like the high, low, close for the week, for the month, or the 52 weeks high. You'll also be able to check the deliveries, fundamentals, financials, shareholding pattern, future open interest (OI), option chain, scan (technical and fundamental), bulk and block deals, and much more.
3. FII/DII Activity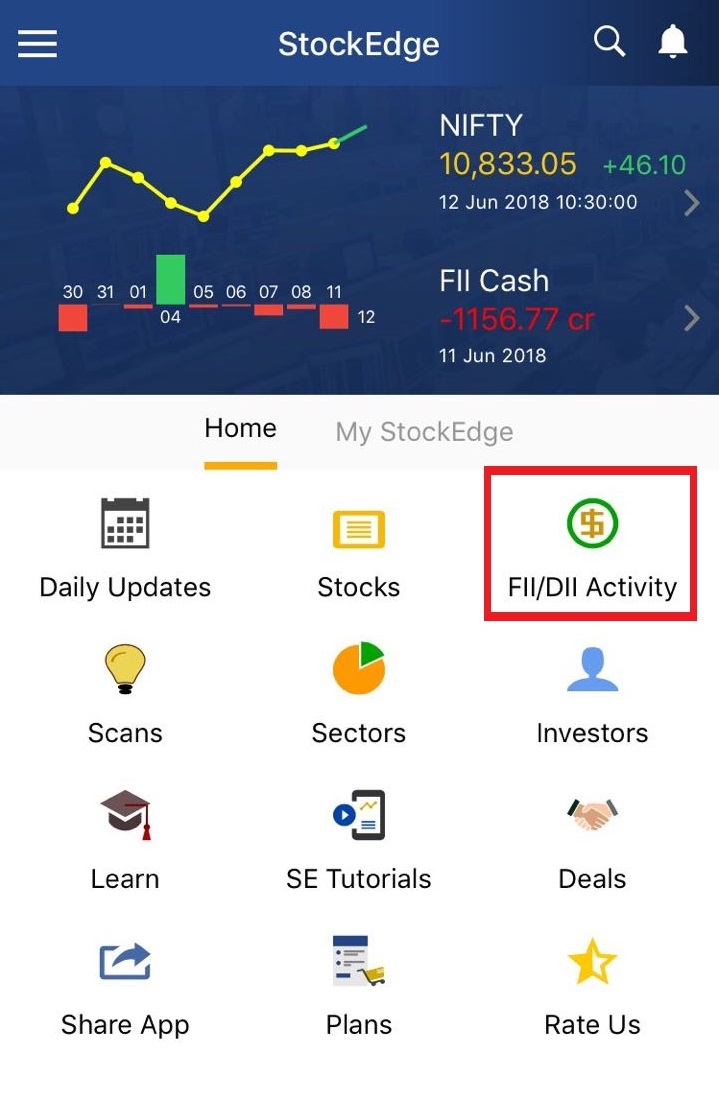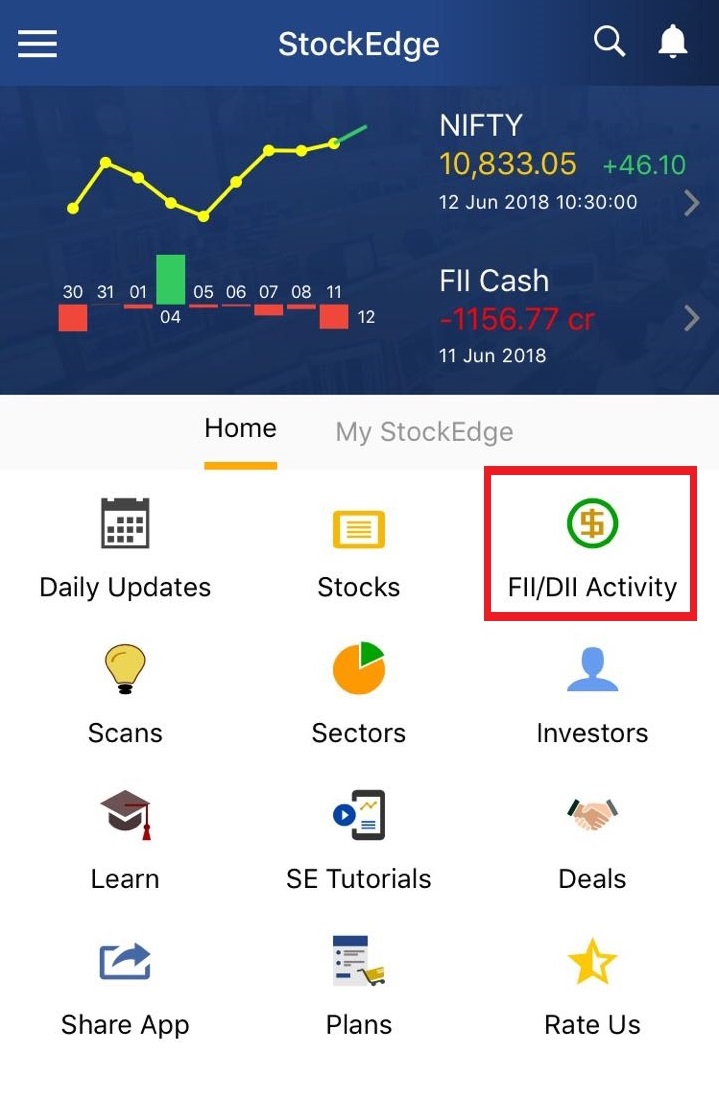 There are some important things you should look for when in this section. For example, the very basic data that you see is the FII cash market on daily basis, monthly basis and on yearly basis. Often it is seen that when the FIIs are selling, the DIIs are buying. So you should look at the DII cash market also.
In terms of derivatives data, the exchanges provide the data with respect to what has been their buying or selling in index future, index option, stock future, and stock option. So if you analyze these data points on a daily basis, you'll be able to make a lot of sense of the Indian market
4. Scans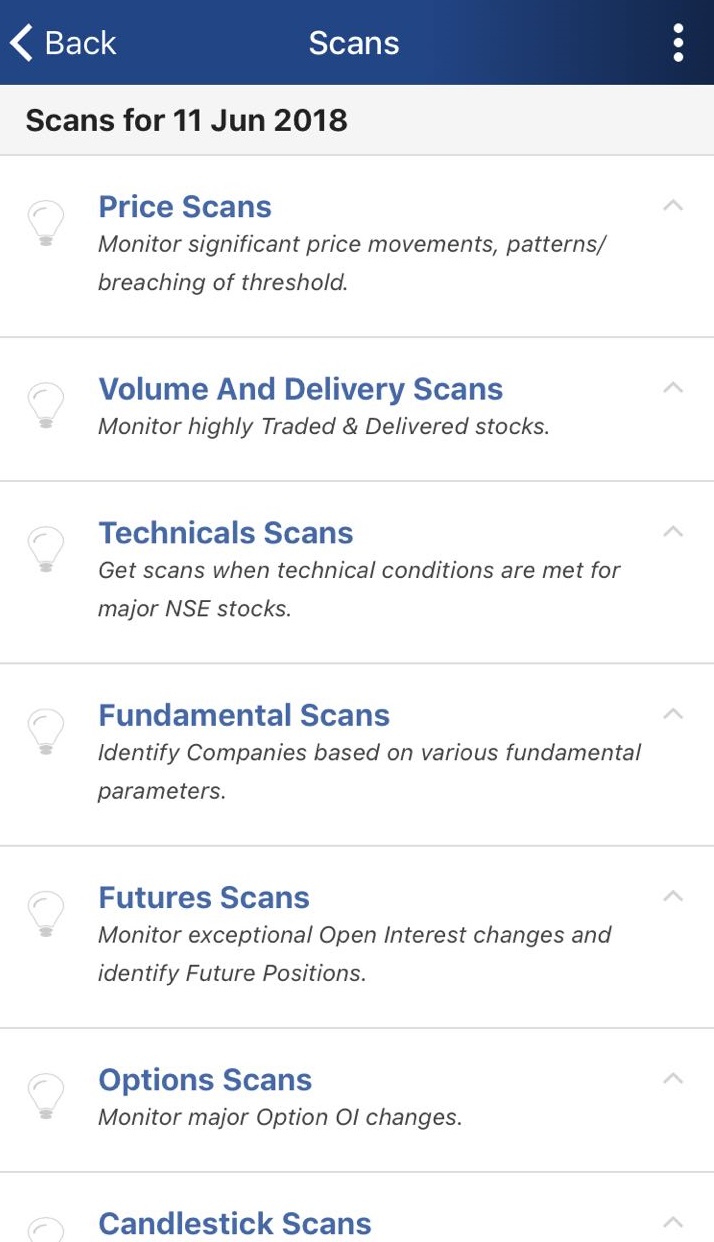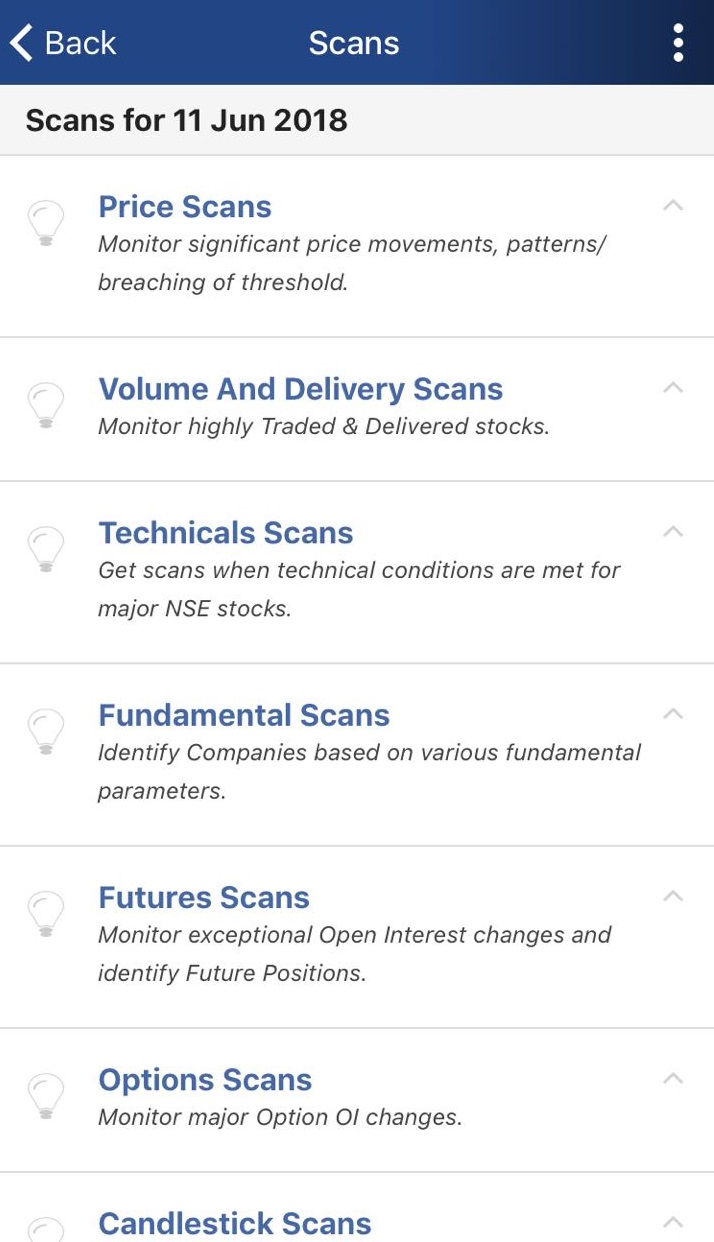 This feature is a game changer for users in Indian equity markets. As the name suggests, this feature will help you scan multiple opportunities in Indian markets. There are different categories of scans. For Example, price scans, volume-based scans, technical scans, fundamental scans, futures scans, options scans and candlestick scans.
Under each scan, there are various scan categories that you can use to filter out stocks according to your convenience and understanding.
5. Sector Section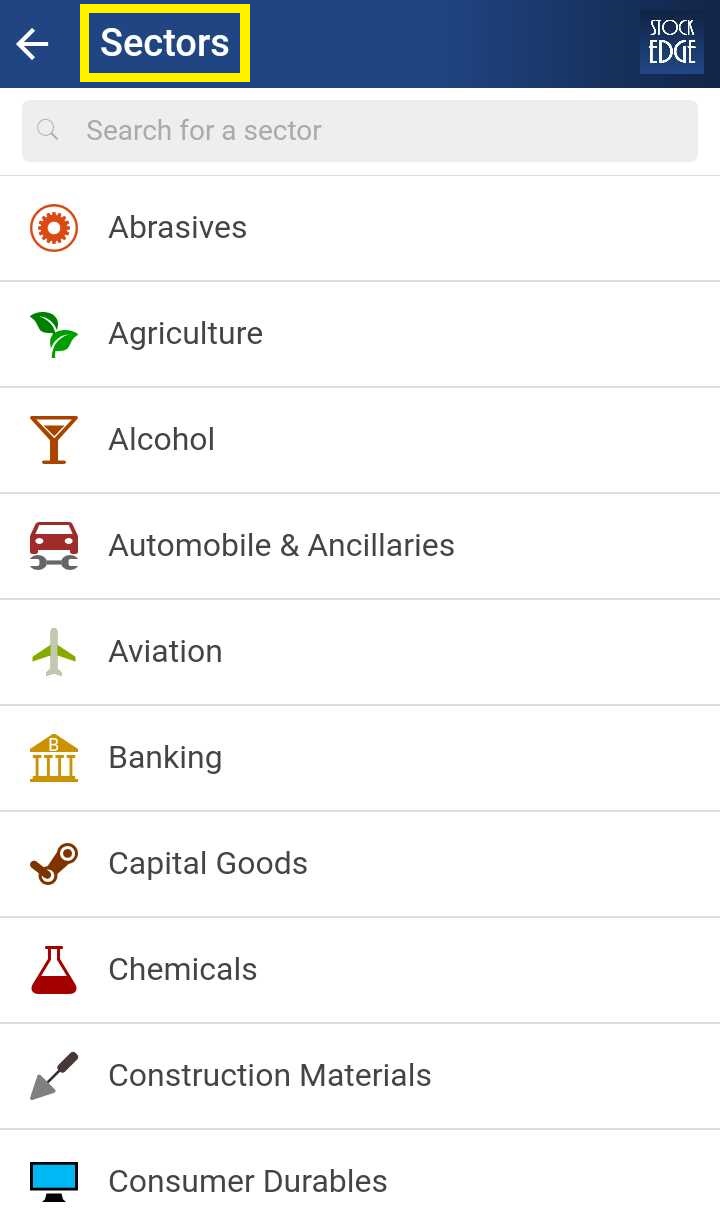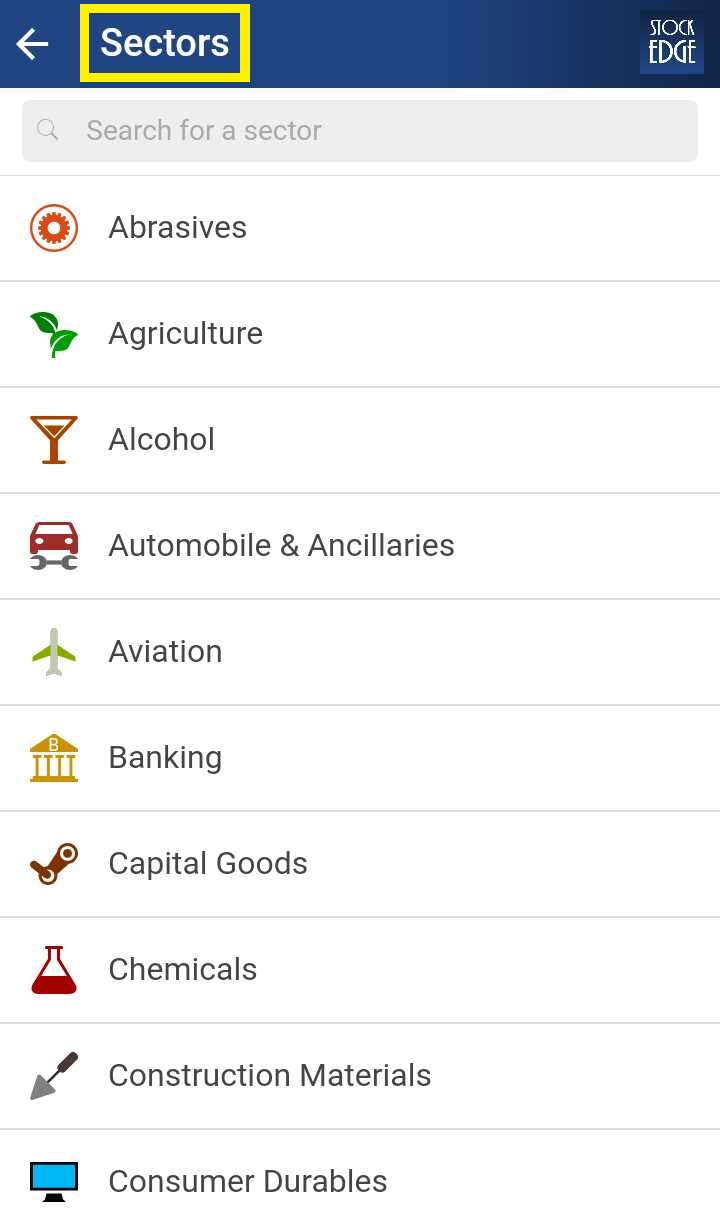 You want to do industry or sector-specific research? Just go to sector section of the app and you'll find all the sectors there. In each sector, there are multiple industries. In each industry, there are multiple stocks. In each stock, you can know who are the gainers and who are the losers. All this information is presented to you in the form of this handy tool.
My StockEdge
This section talks about you. Things those are relevant for you and which you would like to track as favourites can be put under this section. It can be a stock or an investor, or it can be a strategy also.
There are various tabs that you'll see under My StockEdge.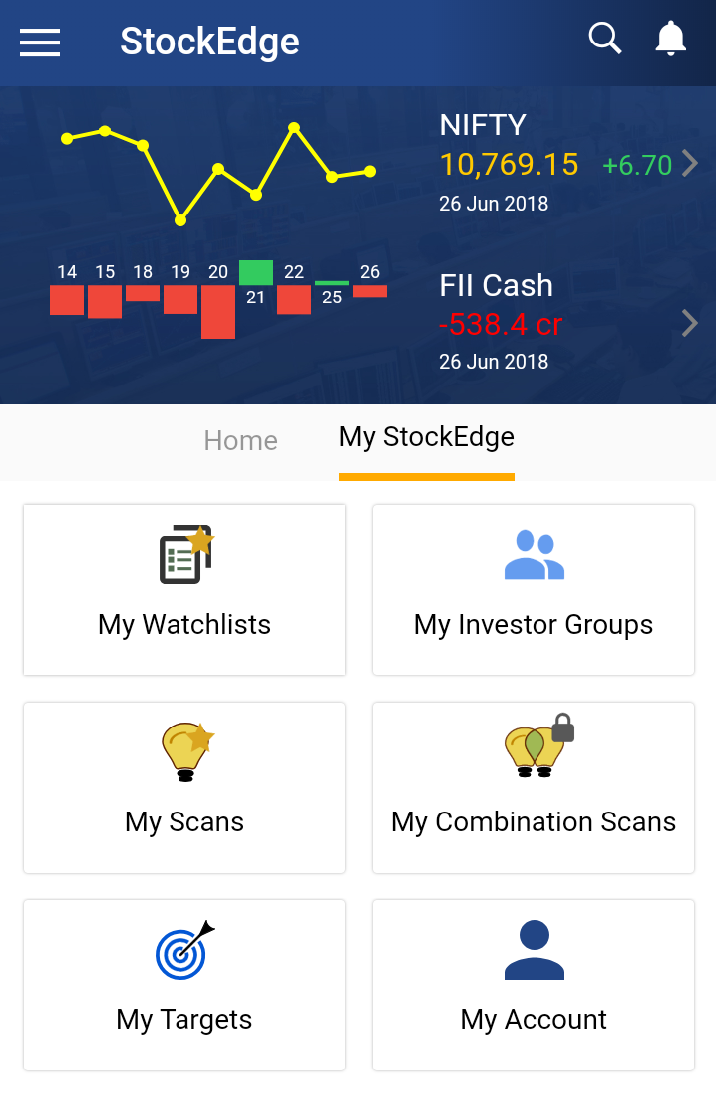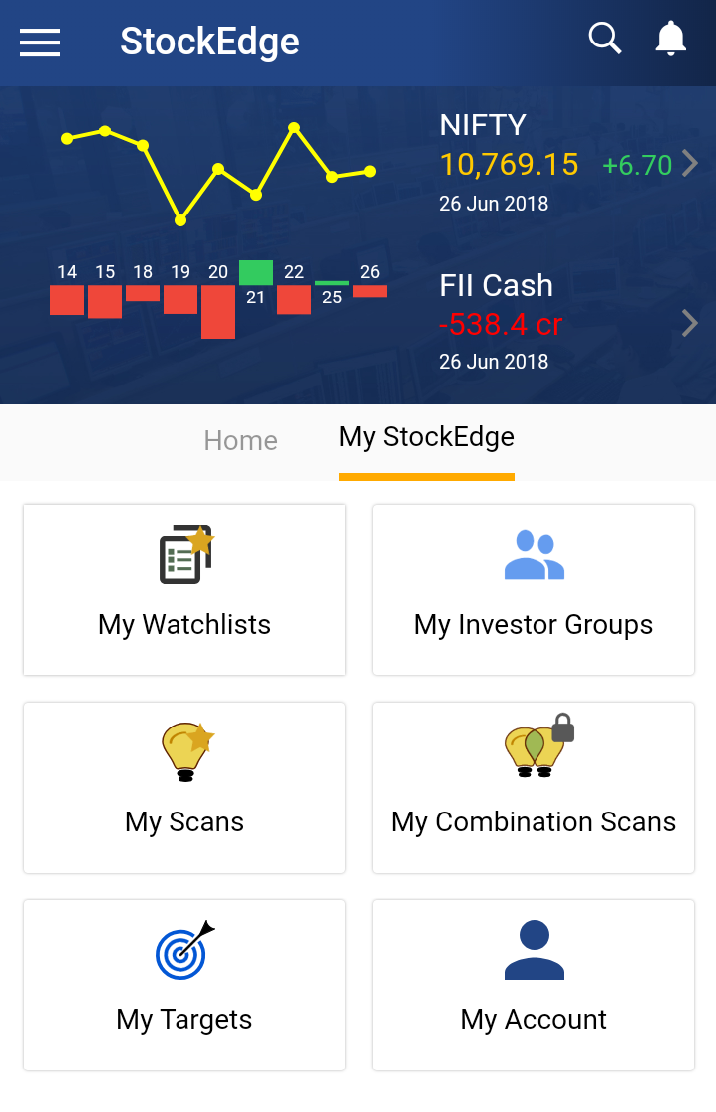 a. My Watchlists
You might come across so many people in your day to day life who tell you about different stock ideas. We understand that it is difficult to remember each and every stock. So what you can do is you can simply create a watch list in My StockEdge section in which you can add stocks that you come across and easily keep a track of all these stocks.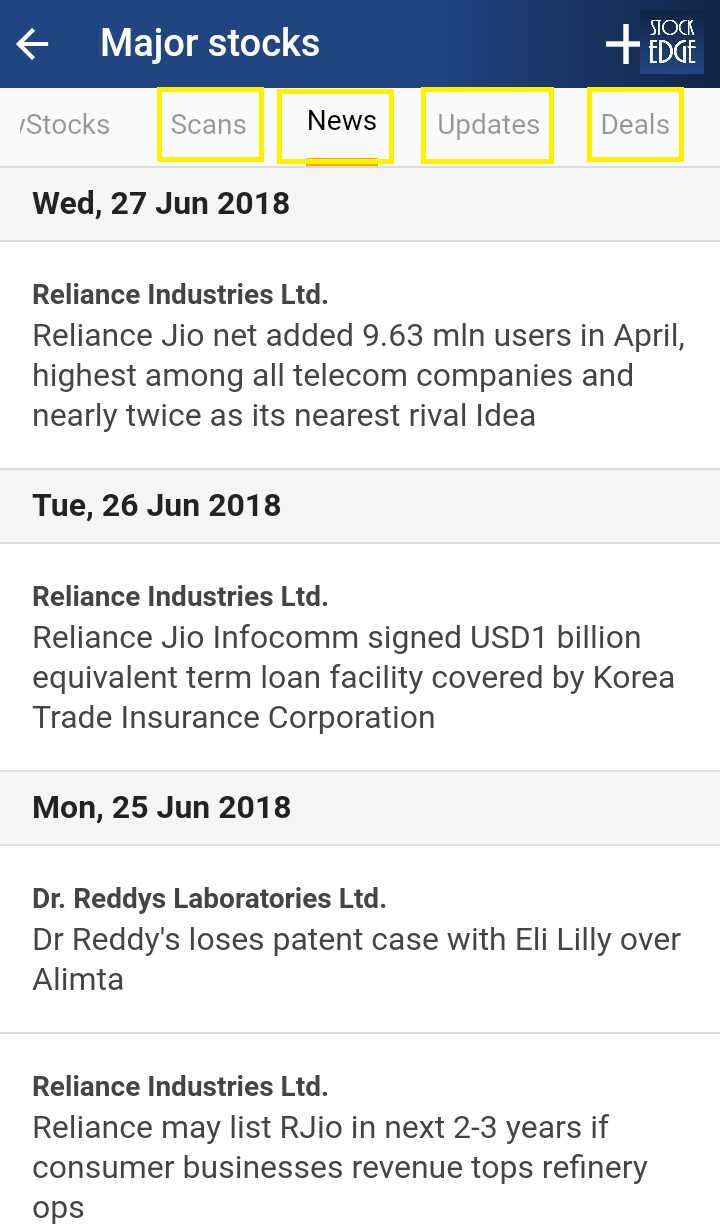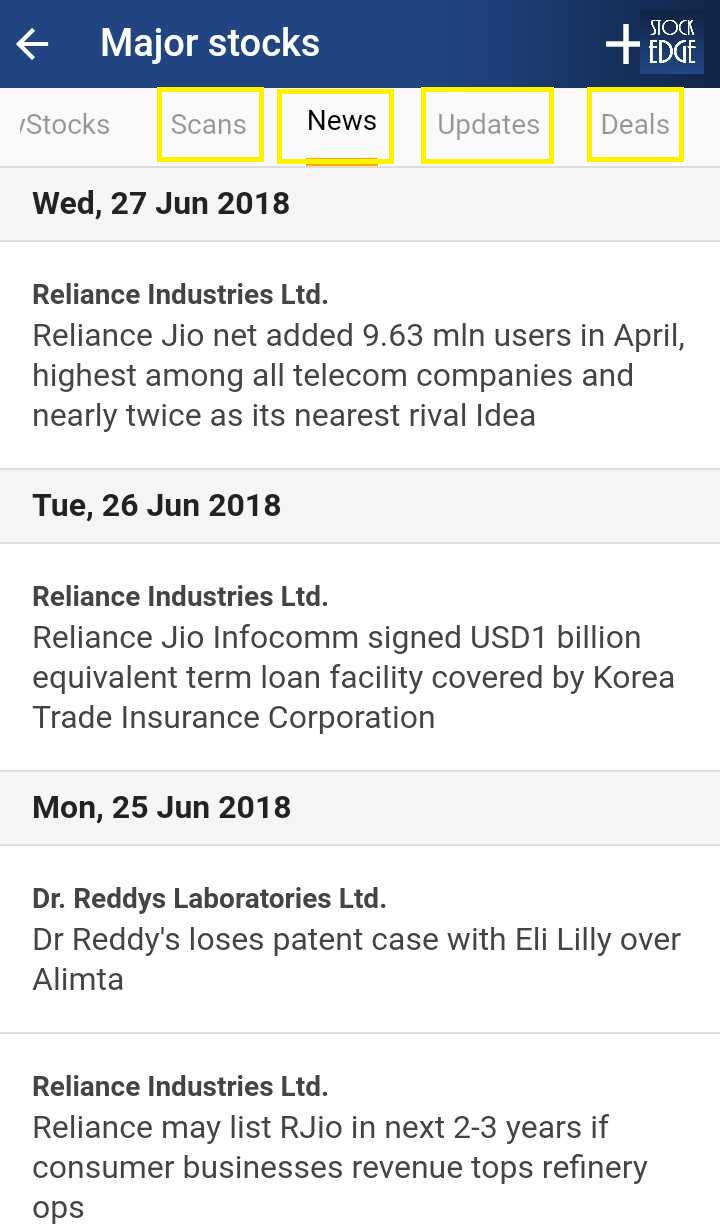 Now when you create a watch list with various stocks, you can easily track what's happening in that stock in terms of price, and also in terms of various scans whether fundamental or technical. You can also check if there is any news update or announcements related to that stock in form of different tabs.
b. My Investor Groups
Want to track what your favourite investors are doing? Just go to My Investor Groups and create a watch list of your favourite investors in whatever name you want.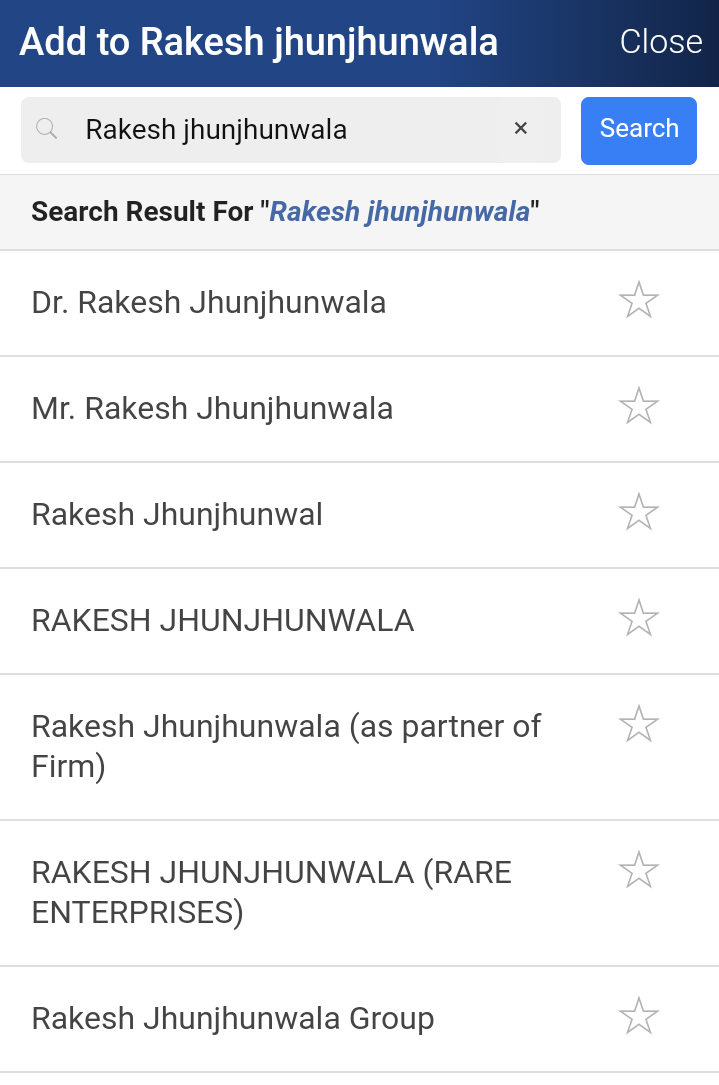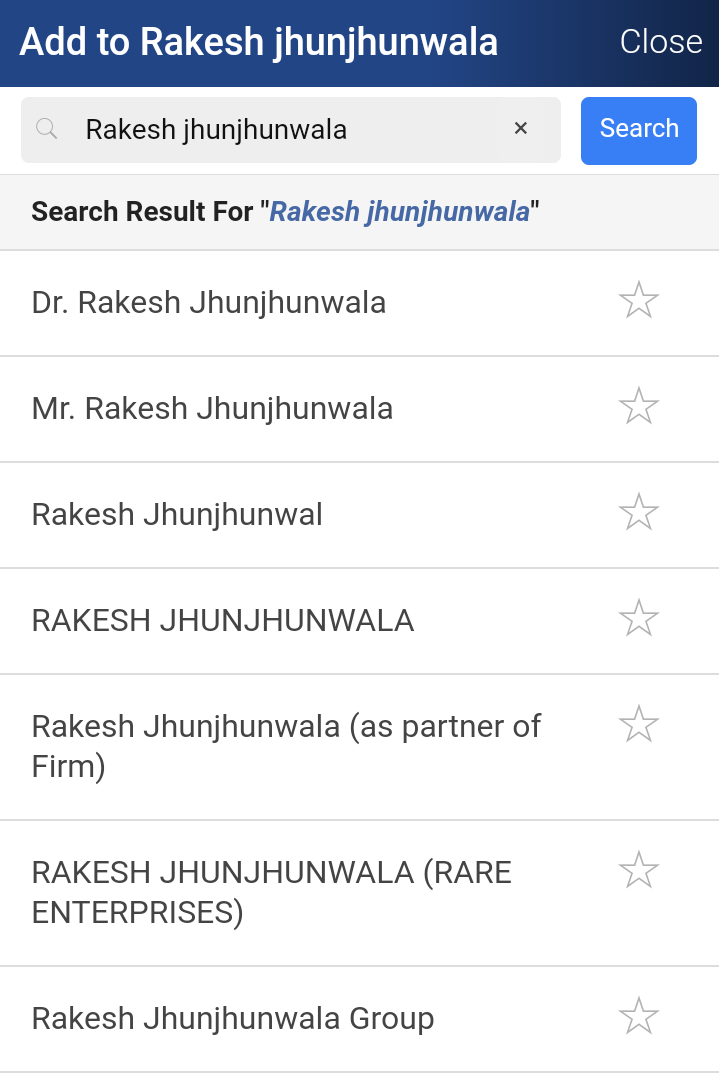 You can combine multiple spellings of the same investor to know what these big investors are buying or selling or any kind of insider trading information in the deals section and also their shareholding pattern in different companies in which they have invested their money in the shareholding section.
c. My Scans
You have a strategy in mind but don't know how to track stocks on that basis? My Scans section is there to help you out with that. This feature helps you filter out scans, both fundamental and technical, based on your preference and needs.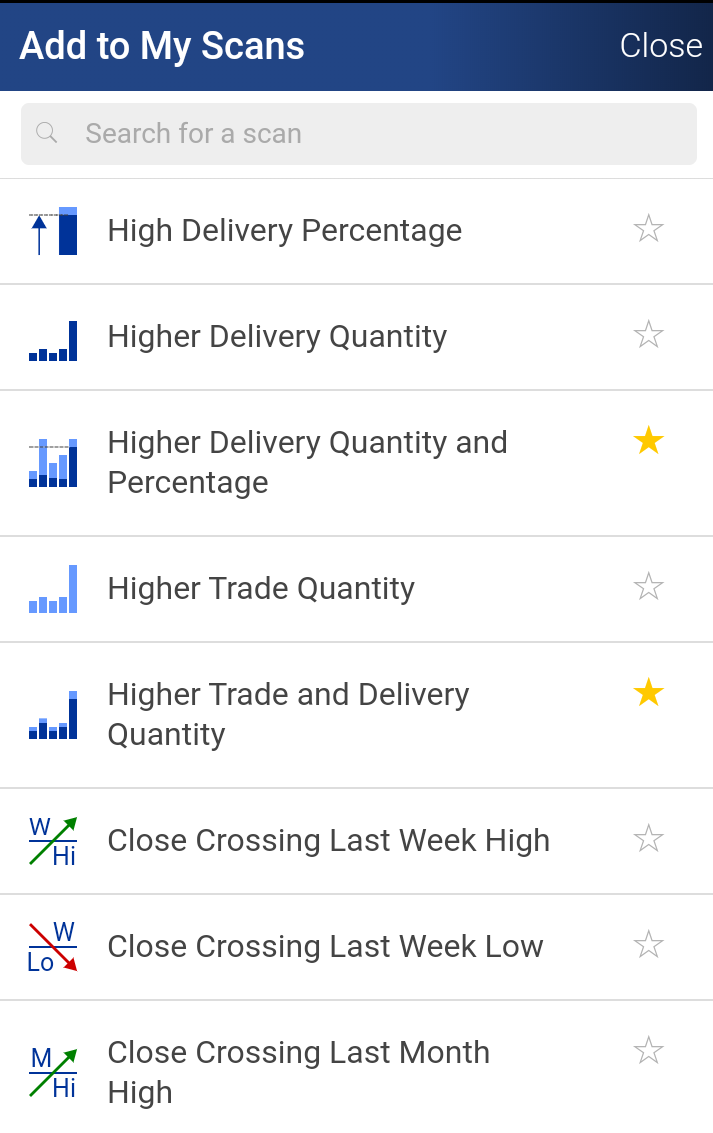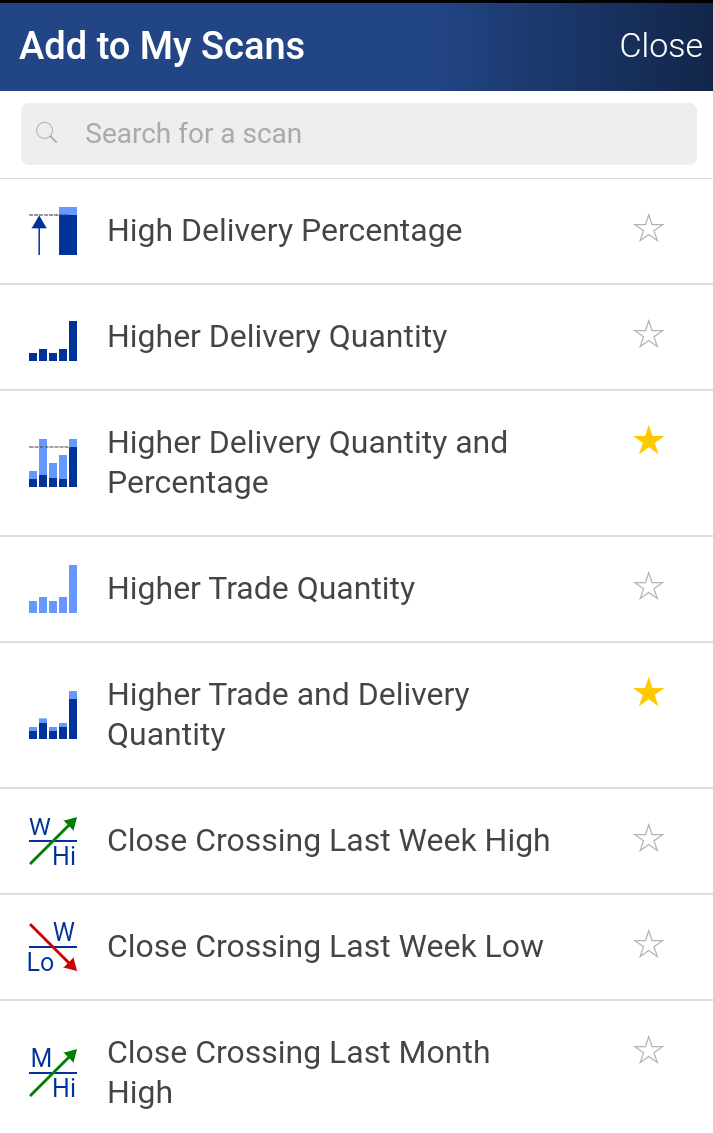 Though there are some scans that are a part of the paid feature, most of the scans you'll find are free. You can get the paid features here.
d. My Combination Scans
This feature is what differentiates StockEdge from other financing applications. If you are someone who looks at multiple criteria, then combination scan is the best thing for you. It can be anything related to the technicals or it can be related to fundamentals or an even a combination of both of them. Although it is a paid feature, the membership fee is also kept very nominal.
Again, you can get this paid feature here
Still, need help regarding the use of this application? Watch the video below:
Bottomline:
This is not it! There is something more you can use to enhance your knowledge and understanding of the stock market- the StockEdge Club. This is India's first virtual club for stock market enthusiasts. The main feature of the club is that it does not give calls and it is purely for educational purpose. Here you have an expert panel of technical and fundamental analysts who help you in learning and solve your queries on market instantly. This is one of its kind learning environment in India. If you wish to know more about the club, click here.
Also Read more blogs in StockEdge Blogs.