Whenever a Sector story becomes prevalent in a market due to micros or macros we are at our wits end thinking as to what to buy and why.
What, if we say, that we simplified this problem for you, so that you have an idea for buying in minutes.
Suppose the Paper sector is moving and you want to know the best company in the sector which can make money for you.
So for this we have a Sector feature in StockEdge under which you can make your own scan and choose the best company among the same sector or Industry for your investment bet. This is known as choosing between the peers.
Comparing peers is an easy and efficient way to discover the best stock in a particular industry, for your portfolio.
Now you must be pondering as to how to identify the best among peers. This sounds tiring and cumbersome at the same time. Don't worry, StockEdge has a solution to this.
By using the My Combination Scan under My StockEdge feature you can filter out the potential peer companies and conduct comparative analysis to determine the best investment option.
My Combination Scan
A Premium Member can create his own scan by using combination of various scans available under the six broad scan parameters. However, you need to keep in mind that only 10 scans under the parameters can be incorporated in a single combination scan. This way you can create multiple scans for different sectors based on various other criteria's.
How do you create My Combination Scan?
To begin with, first click on My Combination Scan under My StockEdge and then click on Add Combination Scan. There you name the scan, according to your preference and click on Add.
Once done, click on name and you will get this blank page, with a plus sign on the right corner. Now, click on the plus sign to add scans available under the six broad scan parameters.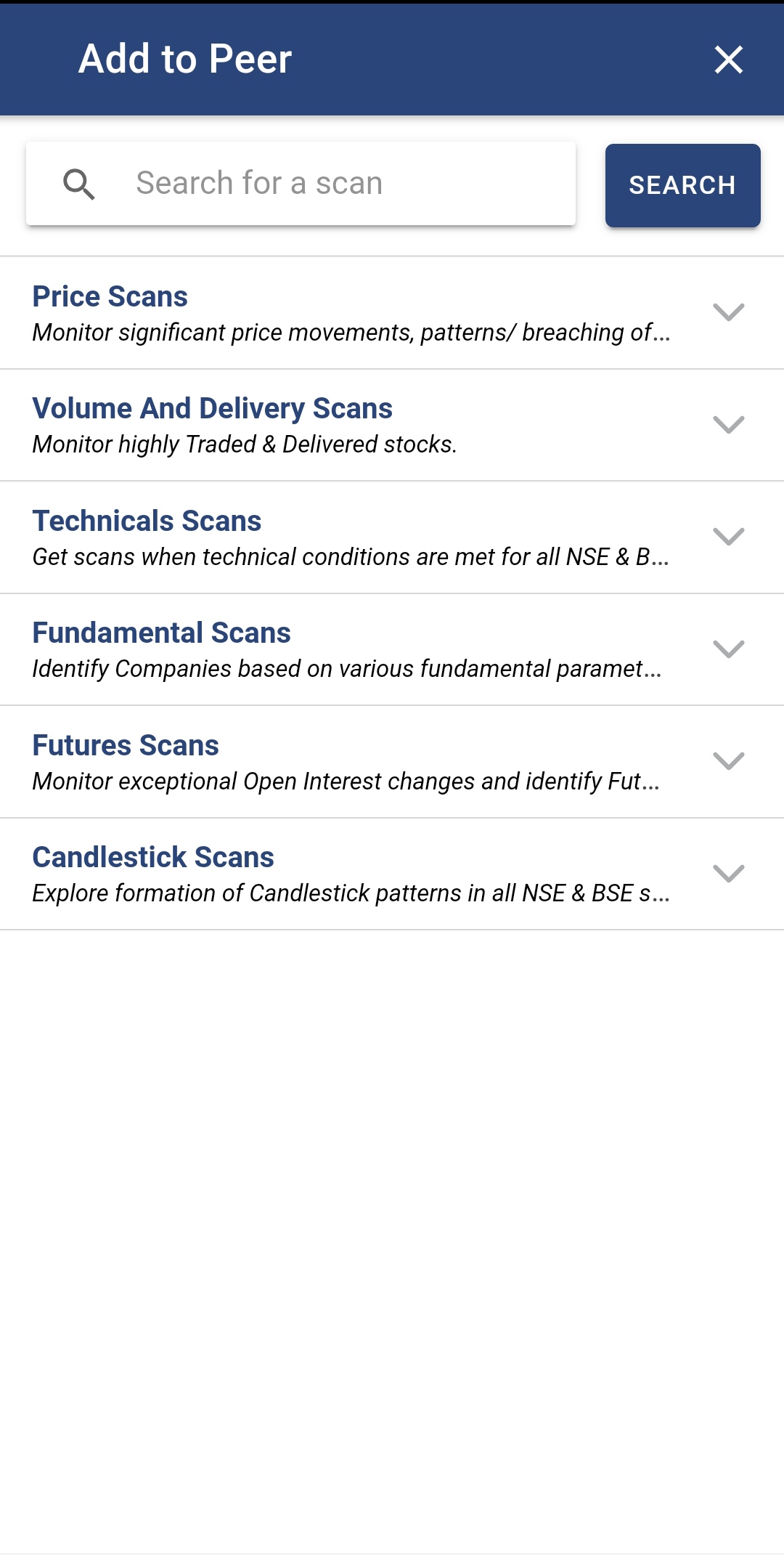 As we are discussing peer comparison, so preferably you need to choose your scans from Fundamental scans segment and Price scans segment.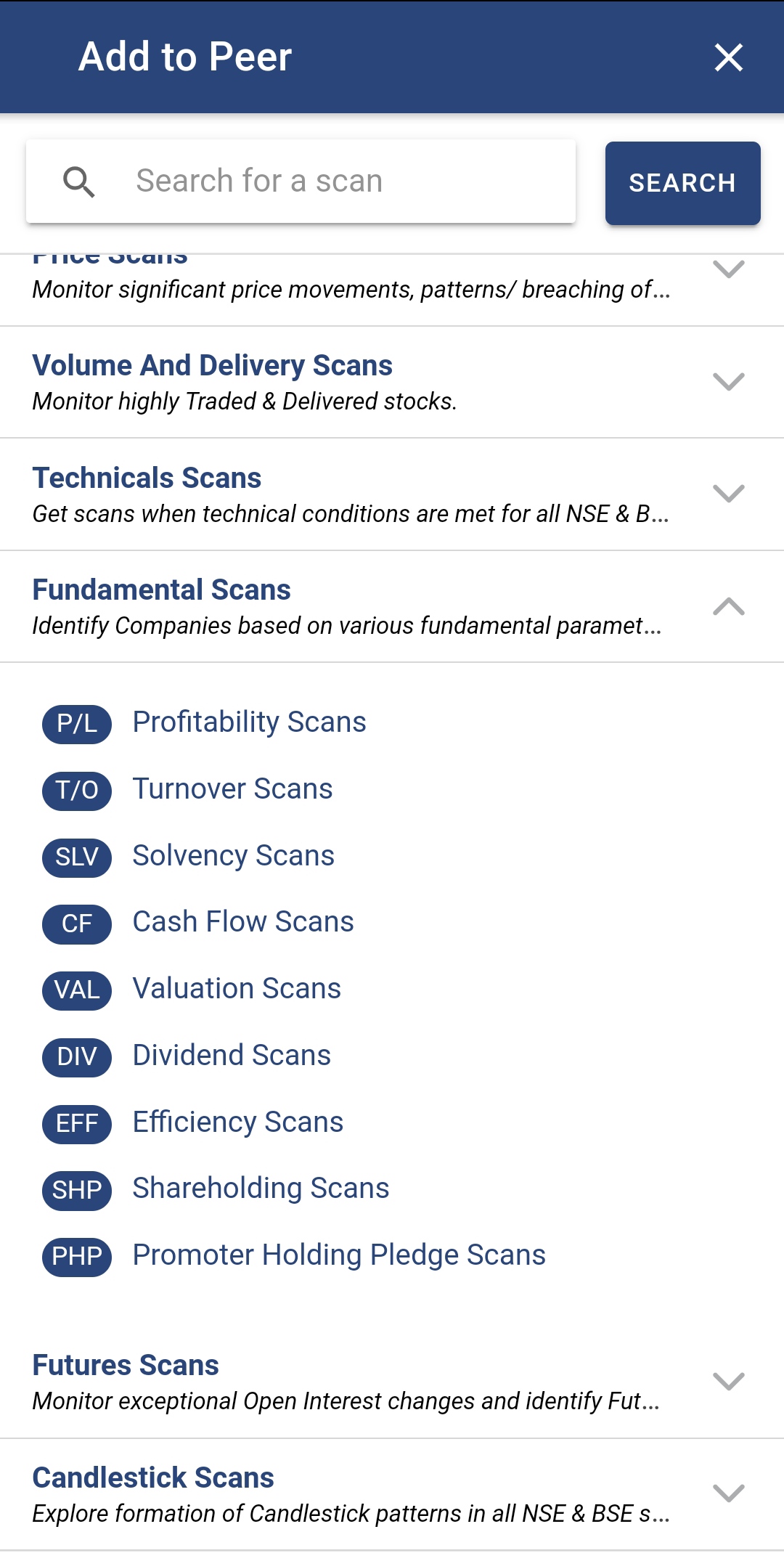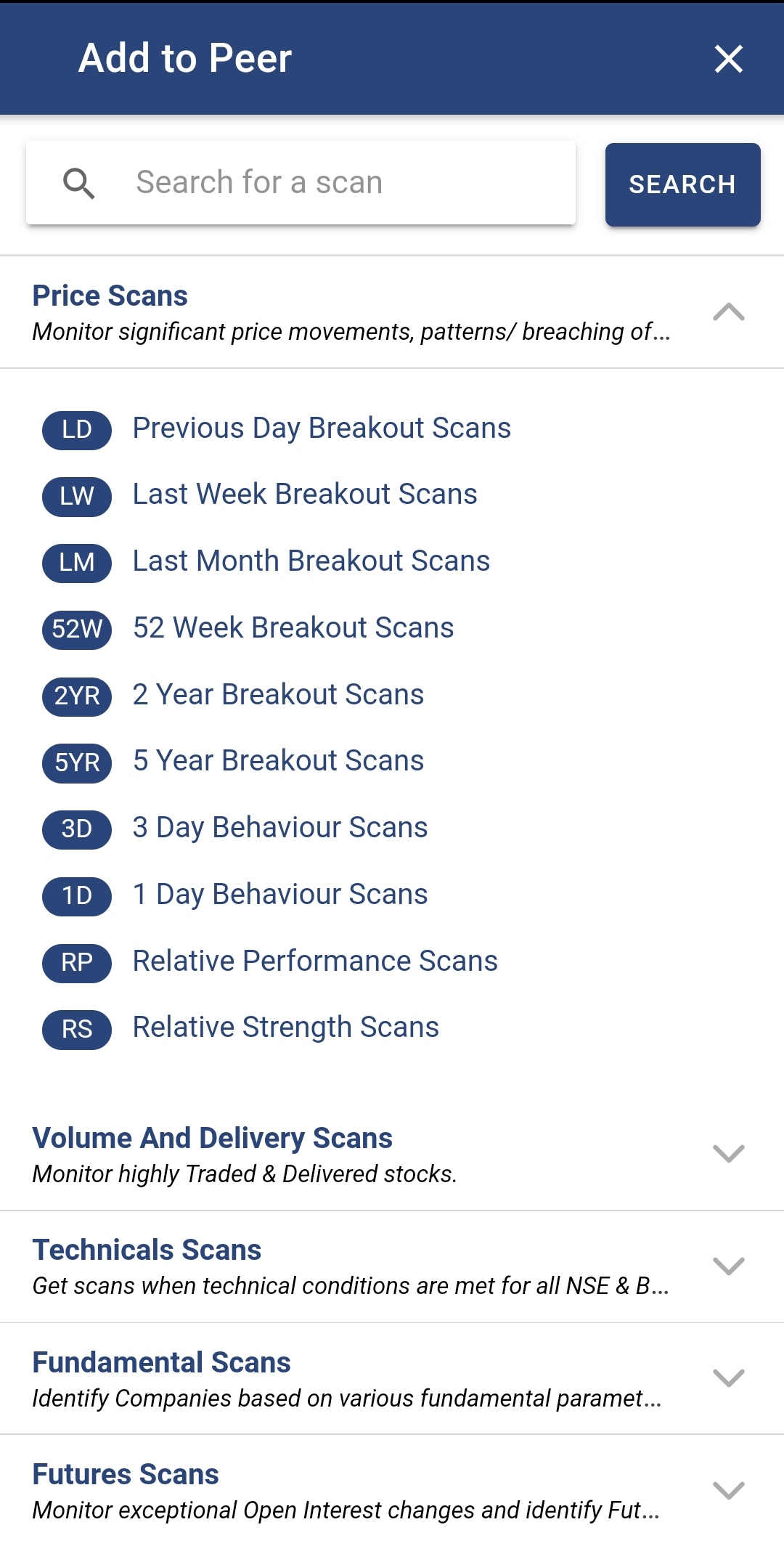 For example, here we have chosen four scans, belonging to the above two segments, which are:
Closing Above Previous High
Quarterly Net profit Growth YoY
Increasing Quarterly Sales (Results)
Consistently Paying Dividend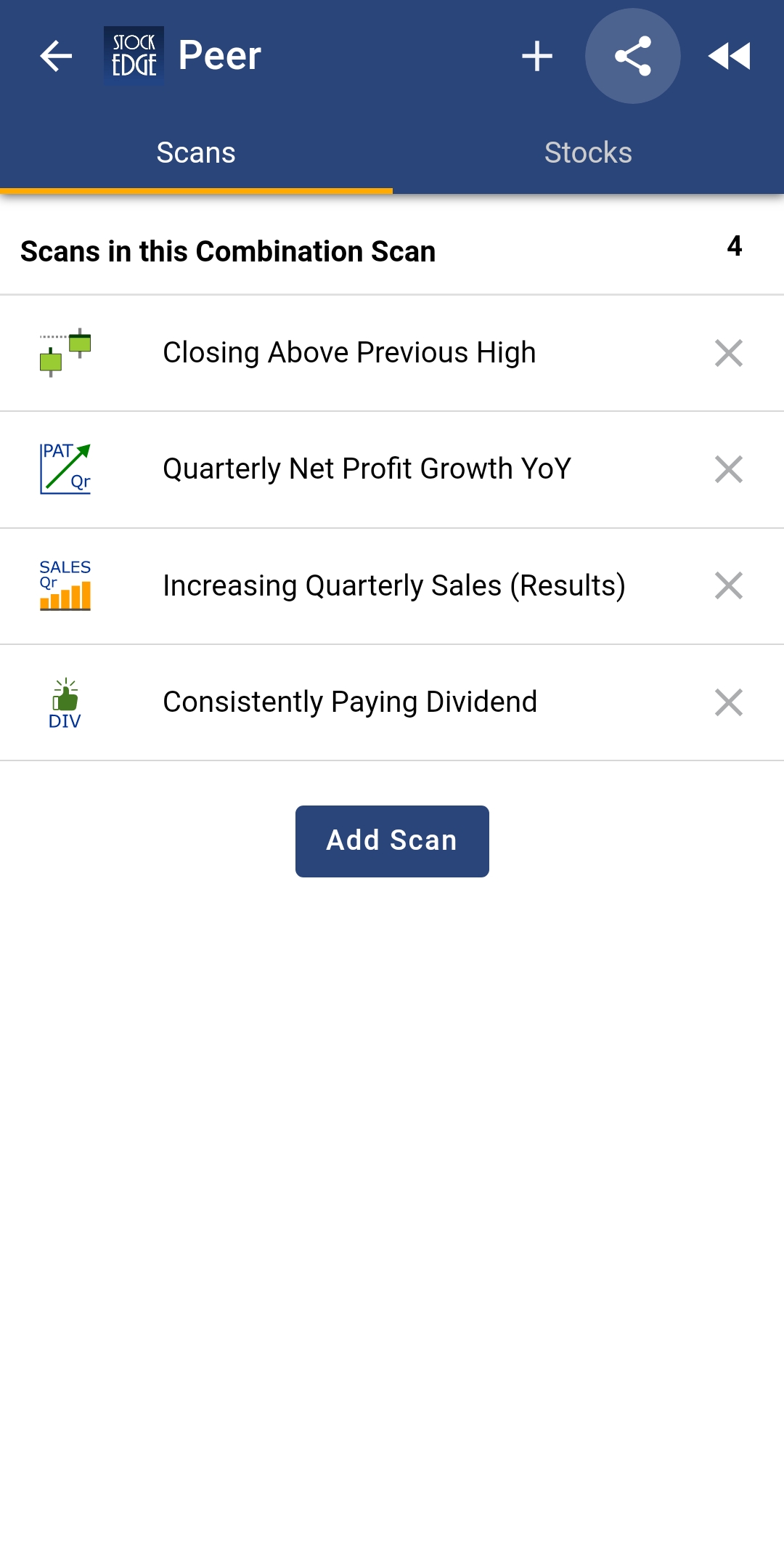 Filtering Peer Companies
Once the preferred scans are added, by clicking on 'Stocks' you get the list of all stocks that conform to the set scan criteria.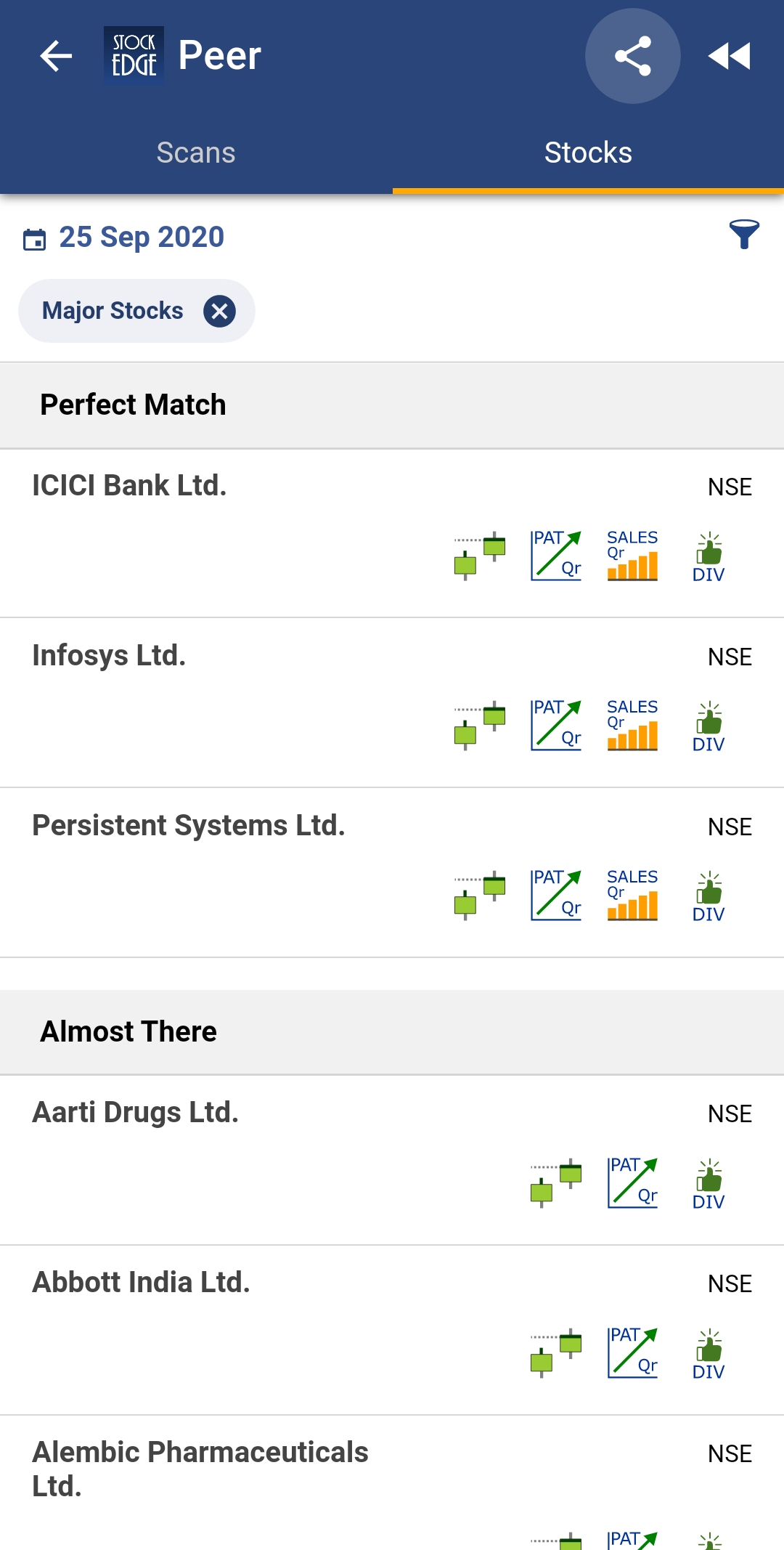 See also: Narrow Range Scans (NR)
Then you have to simply filter these conforming stocks using the 'By Sector' filter. Once you have selected your preferred sector then select the preferred industry within the sector using 'By Industries' option.
This gives you the list of peer group stocks, using which you can easily conduct peer comparison analysis to determine the best investment option.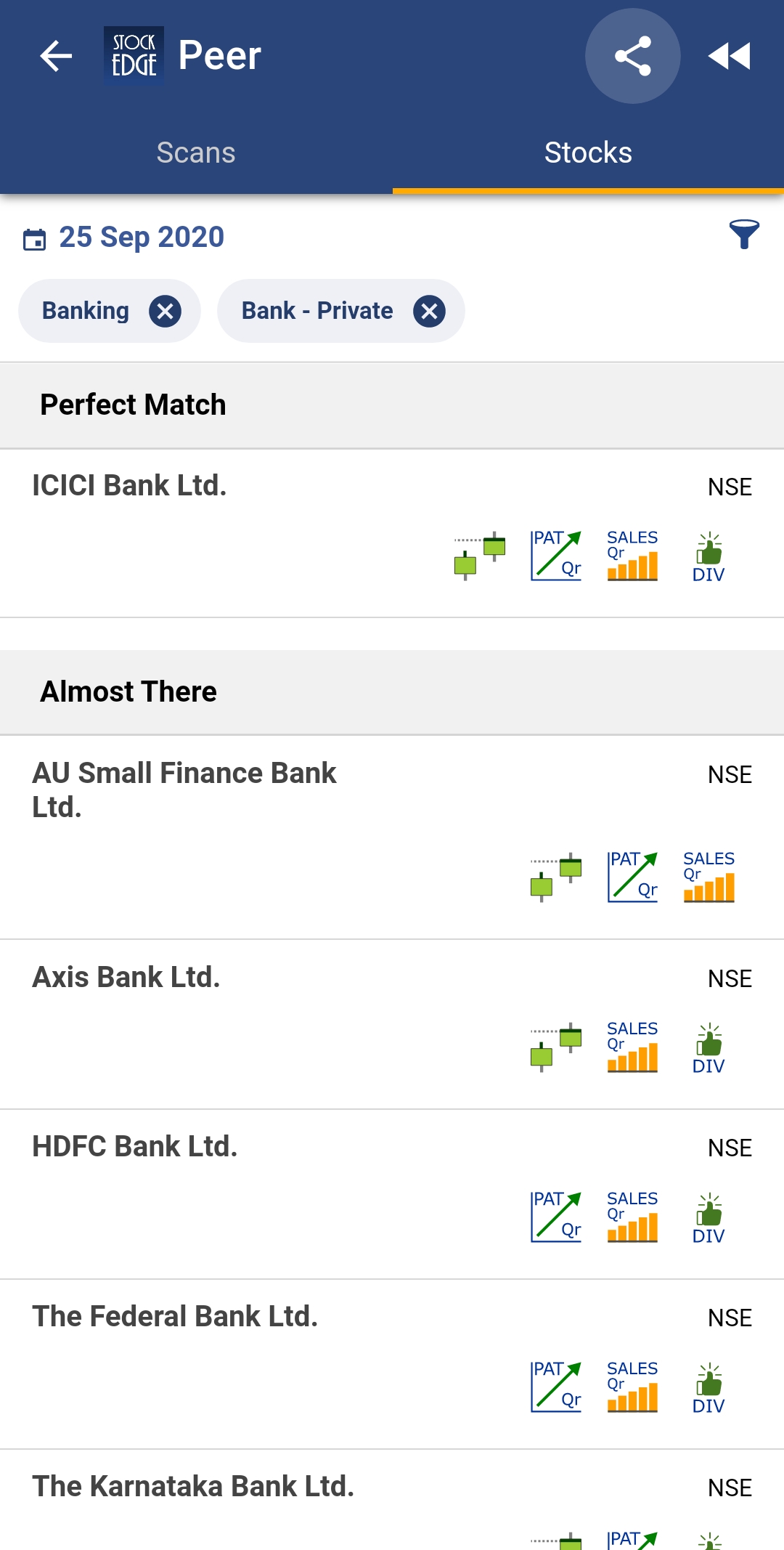 You can also choose the other filters here to limit the stocks in the scan according to other criteria like market cap, price etc to filter stocks.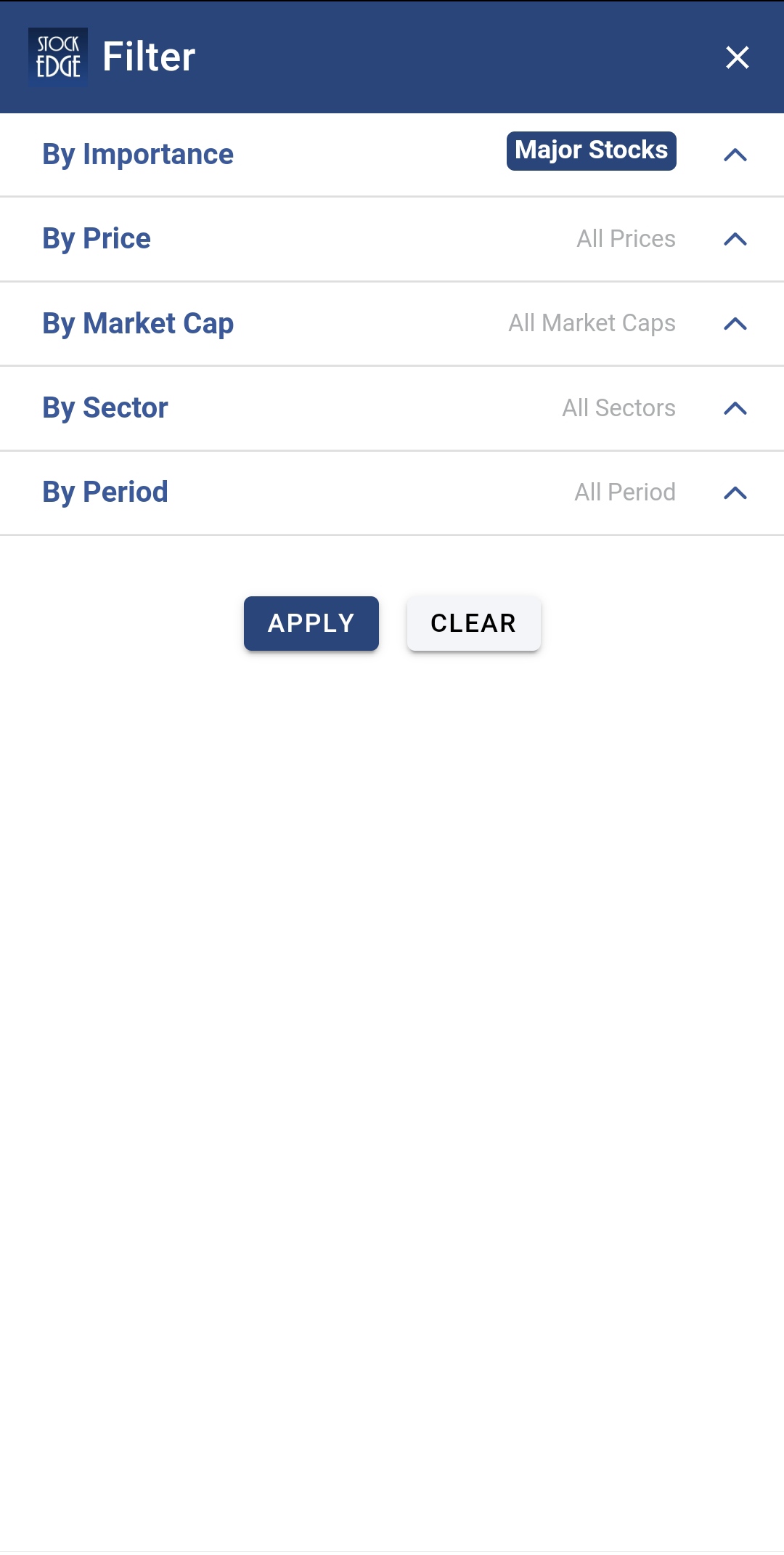 See also: Understand Fundamental Parameter of Combination Scan
BOTTOMLINE
So StockEdge is the only app where you get filtered information, which helps in making your Analysis faster, better and easier within minutes. So what are you waiting for start using scans today and become a profitable and smart trader cum investor. These scans are part of the premium offerings of StockEdge app.
Click here to know more about the Premium Plans