Its monsoon time and every year the Skymet and IMD predicts rainfall pattern over the Indian subcontinent and then starts the numerology of rainfall forecast for each zone of India. Many a time ElNino or drought leaves a ravaged effect on Agri-crops. Monsoon brings rainfall for 4 months in a year and provides around 75% of the annual rainfall. It is most important for an Agri- Economies like India and its Stock market. Monsoon impact on Indian stock market is very huge as India heavily rely on Agri- Economies
Importance of Monsoon
Monsoon is the backbone of the agriculture sector and agriculture sector is the backbone of Indian economy because 70% of the Indian population depends on farming either directly or indirectly for their living. Around 58% of the total employment in the country is through the agriculture sector and it contributes to around 15% of the GDP. Thus any adverse changes in Monsoon impact on Indian Stock Market directly. Being an agrarian nation, much is on the stake on account of Monsoon rains, be it soil moisture, sowing, transplantation or irrigation of crops.
What is Normal Monsoon
Indian Meteorological Department (IMD), brands the monsoon as 'normal' or 'deficient' based on how it fares against its benchmark Long Period Average (LPA). LPA is the average rainfall received by the country as a whole during the south-west monsoon, calculated on 50 years period. This acts as a benchmark for measuring the rainfall. The country is said to have received deficient rainfall if the actual rainfall falls below 90% of LPA and excess rainfall if the rainfall is greater than 110% of LPA. It is deemed 'normal' when the actual rainfall received falls between 96 and 104% of LPA.
Monsoon impact on Indian Stock Market
Monsoon rains are critical for the agriculture sector. About 800 million people live in villages and depend on agriculture, and a failed monsoon can have a rippling effect on the country's growth and economy. Monsoon has a direct correlation with the economy:
Better Monsoon –> Better Crops –> Better Agriculture –> Increase in disposable income –> Better sales for manufacturing and services companies –> Higher Profitability –>Higher Dividends/Higher stock prices –> better economic performance.
Monsoon impact on Consumption
A good/normal monsoon creates a positive perception about the economy among investors, including foreign institutional investors. It helps in raising the rural income which boosts domestic consumption which drives the economy. On the other hand bad/deficient monsoon delay planting and produce smaller yields of crops such as Kharif crops which are all water-intensive that can accelerate food inflation. Deficient/excess rainfall leads to crop losses, which results in lower earnings for farmers, and lower rural demand and sales resulting in a problem for the economy.
Monsoon impact on sectors
A good/normal monsoon or a bad/deficient monsoon has a high impact on some sectors in the stock market of which some sectors are directly dealing in the agriculture market like seeds, agro-chemical, and fertilizers while some are indirectly benefited from monsoons like FMCG and auto space. Microfinance companies are affected as deficient/excess rains result in NPAs, as farmers do not repay loans owing to loss of income. Such events are sometimes followed by loan waivers announced by the Government which potentially disturbs the credit discipline of borrowers.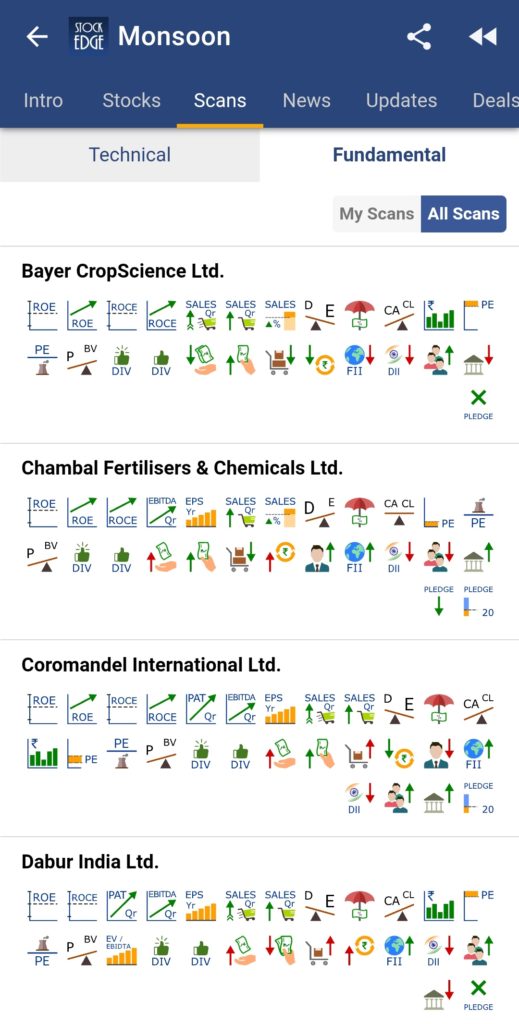 Monsoon Impact on Nifty
The forecasts for the southwest monsoon season (June-September) in the country as a whole are released in two stages: one in April and the second in the first week of June. A deficient rainfall forecast results in a dip in the equity markets, while normal rainfall forecasts result in some gains in the equity markets.
Banks, FMCG and auto sector accounts for more than 50% weightage in the Nifty 50. Changes in the expectations of these sector's stocks earnings on the basis of the monsoon rainfall drive the performance of the index as a whole. Thus deficient monsoons will have a negative monsoon impact on Indian stock markets and vice versa.
The demand for fertilizers and agri-inputs is highly correlated with the onset of monsoon rainfall. A normal monsoon leads to high farm production and high farm production will also lower the raw material costs for companies and improve the rural demand for products. This leads to an improvement in financial performance such as a rise in margins and a rise in total revenue of FMCG companies. Farm automobiles and tractors are expected to witness high demand on the onset of good monsoon.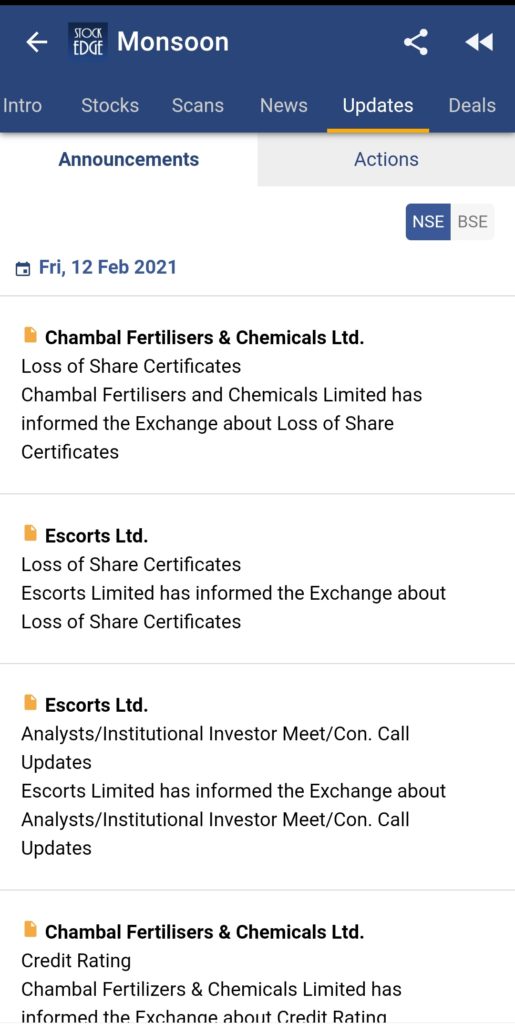 Where can you find them
In our App, you get detailed information on the stocks and their reasons for getting impacted under Monsoon. So during this season, you get to know which stocks would be your money-minting instrument. Thus in the homepage of the app under premium option, we have a manuscript of ready watch lists which impacts stocks differently under the same theme. This, in turn, helps you to understand which theme is a good investment bet for which time.
Here you can check out all the scans which the stocks fall under, all the news flow in the outlined stocks and any corporate announcements or corporate actions which have taken place for the stocks outlined. You can even check out if any bulk or block deals have happened for the chosen stocks lately. All in all, you can have a 360-degree outlook on the theme that is playing out. Thus if any of these themes catches markets fancy then you can know which stocks can generate the best return for you.
Bottomline
So what are you waiting for, become our premium member and avail of all these benefits? If you want to know more about the companies impacted by the same then subscribe to Stockedge App.
Join StockEdge Club to get more such Stock Insights.

You can check out the desktop version of StockEdge.