Advances Growth(%)
Advances Growth is not about what we get as an advance from our work-place or what we pay online as advances for our goods purchased!!!
Then what are Advances? Advances must be confusing you right and growth in advances may be getting you skeptical!!! It is mostly used for assessing Banks financial health. The more the advances growth the better will be the financial health.
Advances Growth simplified
Advances growth in the balance sheet of any company means the amount of money lent out as loans.  Advances are especially important in Banking and other financial Institutions like NBFC's or small-scale lenders. A bank loan or advances is a form of credit which is extended for a specified period of time, usually on fixed-interest terms related to the base rate of interest, with the principal being repaid either on a regular installment basis or in full on the redemption date. Advances form a finance companies' major asset as it determines their earnings. Growth in Advances is an important measure for the bank's performance because it shows how much advances have increased on a year-on-year basis.
Importance
Advances growth is expressed in terms of percentage, which may be positive or negative depending on whether current advances is greater than previous year's advances. Growth in advances is an important measure of management performance because it shows how much money the company is making. The positive and sustainable growth rate is always a good sign for a company.
Impact
Growth in advances is really important to consider in analyzing banking or other financial company stock. We also need to look into the causes of growth, the sectors which have contributed to the growth and the sectors which have been a laggard. The measures undertaken by the company to boost its advances growth are sustainable or not in the long-term These analyses and other features will really help to understand a finance company better.
Formula:
Advances growth (%) = Advances of year(n) – Advances of year (n-1) X 100
                                                Advances of year (n-1)
Explanation
Suppose a Bank ABC has advances of Rs. 5,00,000 crores at year-end (n). Last at year-end(n-1) the advances were Rs. 4,50,000 crores.
Advances growth (%) = 5,00,000 cr – 4,50,000 cr X 100 = 11.11 % (growth year-on-year basis)
                                                4,50,000 cr.
Thus, the Advances growth is 11.11% year-on-year basis.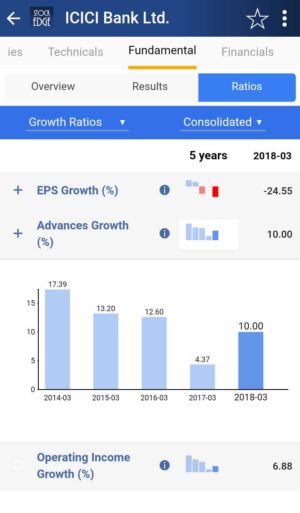 Stockedge App
With this app we don't have to calculate advances growth (%) on our own. StockEdge gives us the growth of the last five years of any company listed in the stock exchange. We can look and compare advances growth (%) of any company and filter out stocks accordingly.
Suppose we want to look at advances growth of ICICI Bank Ltd.for last 5 years then in the Fundamental tab of ICICI Bank Ltd., click on the fundamentals tab, we will get Ratios tab.  Then in the Ratios tab click on the Growth Ratios, we will get Advances growth (%) of ICICI Bank Ltd.
Bottomline
Tracking advances growth of a finance company is of utmost importance in analyzing the company's performance and growth. The reasons for the growth should also be looked into be in positive or negative growth cases. Accordingly, we can draw a conclusion about the company's earnings potential. With a click of a button, you can see the comparison of the company's advances growth for five years in stockedge app. Haven't subscribed to stockedge yet? So what are you waiting for, subscribe immediately to use this free feature. We also have paid featured scans based on Valuations, with the help of these ready-made scans you can with a click of a button filter out good companies. These scans are part of the premium offerings of StockEdge app.
Click here to know more https://www.stockedge.com/