In this weekend's blog, we place our spotlight on one of the penny stocks of 2020, which has seen a turnaround in its business and also became one of the best multibaggers in the last one year, i.e., Subex Ltd.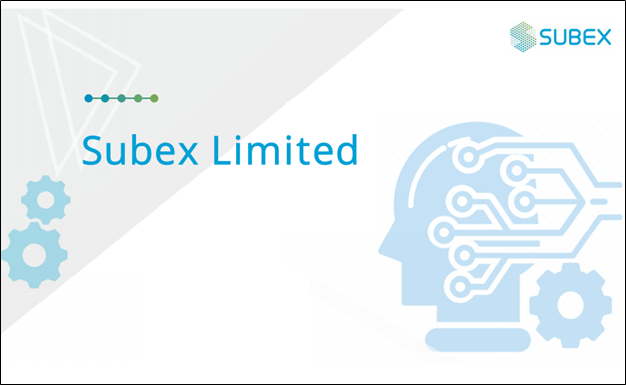 The Story of Subex Ltd.
Founded in 1994 by Subash Menon, Subex has been assisting Global Communications Service Providers in increasing their revenues and profitability for over 25 years. The company has served the market for the past 25 years by providing world-class business optimization and analytics solutions. It is a global leader in facilitating Digital Trust for businesses across the globe. Subex is now setting the standard by enabling all-round Digital Trust in the business ecosystems of its clients. The company helps businesses adapt to the disruptive changes in the business landscape and flourish with Digital Trust by focusing on privacy, security, risk mitigation, identity and intelligence. As of today's date, this is Subex share price.
The company had historically made disastrous acquisitions, which not only impacted its financials and led to higher debt but also shook the foundations of the company. This also led to the departure of its founders from the company as they were not able to control the damage.
But the company managed to improve its RoCE, led by a heavy reduction in debts and significantly improved its financial performance over the years and stabilized its operations. This led to this massive turnaround, which pushed the stock prices higher multiple times.
Subex uses the McKinsey's Three Horizons Model to Turnaround the Company:-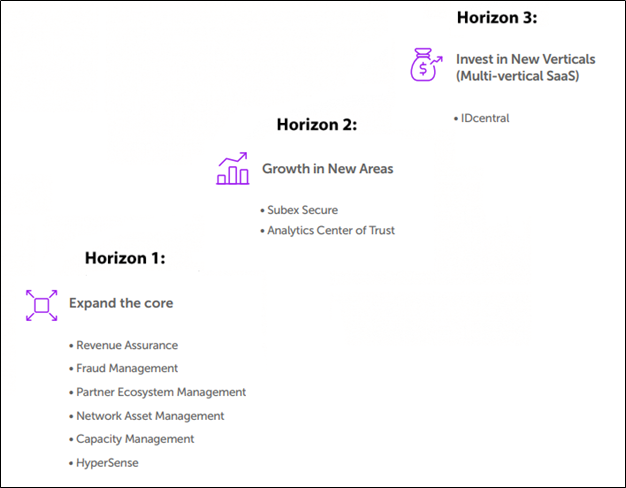 Source: Annual Report 2020-21
The company's products are divided into three categories.
1) Horizon 1 comprises products such as Business Assurance, Risk and Fraud Management, Partner Ecosystem Management, and Network Analytics. These are core traditional risk management products that account for 95% of total revenue. It's a cash cow and more of an annuity business. The company serves over 200 telecom customers, with British Telecom being the largest. Subex claims that it handles 20% of all global traffic. It is expected to grow at a 10% annual rate over the next two to three years, aided by the rollout of 5G.
2) Horizon 2 products are focused on the internet of things (IoT), security analytics.
3) Horizon 3 is a product offering that focuses on analytics and automated anomaly detection.
Horizon 2 & 3 are subscription-based growth products. These products can be sold not only to telecoms, but also to BFSI, manufacturing, fintech, and e-commerce. H2 and H3 can be quickly integrated into the customer's existing solution. As a result, they do not have to go through the lengthy process of replacing the entire old model and switching to the new mode.
Where does Subex get most of its money from?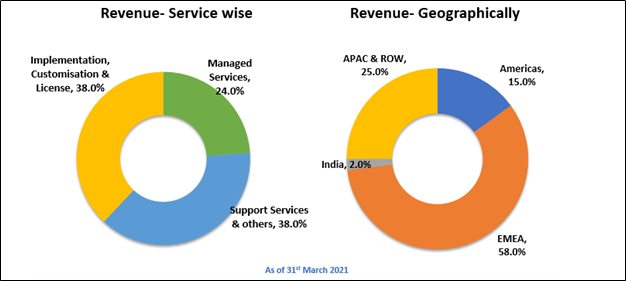 Operational Highlights:
Operating revenue of ₹372cr in Q4FY21 increased by 2.4% QoQ but down by 8% YoY.
EBITDA stood at ₹23cr on a consolidated basis. It is up by 15% QoQ & but down by 23% on YoY basis.
PAT for the recent quarter increased by nearly 2 times to ₹15.6cr in comparison to previous quarter. On a YoY basis PAT has declined by nearly 51%.
EBITDA margins have remained healthy above 24%.
PAT margins witnessed a significant uptick from 9.6% to 16.7% for Q4FY21.
FY21 operating revenue stood at ₹372cr, showing an increase of 2% YoY.
FY21 EBITDA at ₹99cr showed a significant growth of 16.4% YoY.
PAT in FY21 stood at ₹52cr, overturning a loss of ₹269cr in FY20 due to an exceptional item expense consisting of off-balance sheet items of ₹318cr, of which tax expense was a major proportion. It has witnessed a leg-up growth of 119% YoY.
ROE is 9.1% and ROCE is 15.6% for FY21 as compared to ROE of 7.4% and ROCE of 15.2% for FY20.
Total cash, cash equivalents and free cash flow stood at ₹143cr and ₹82cr, respectively.
Debtor days have stretched from 82 days to 90 days which is negative for the company.
EPS in FY21 is 0.96 on a Trailing Twelve Month basis. In FY20 EPS was -4.94, an increment of 119% YoY.
The company is net debt free.
Board recommended a final dividend of 5%, together with an interim dividend of 10%, total dividend for FY21 stood at 15%.
Skylab partnership deals to secure the shipping industry with cyber security solutions.
O-RAN Alliance participation to help accelerate the adoption of open radio access networks.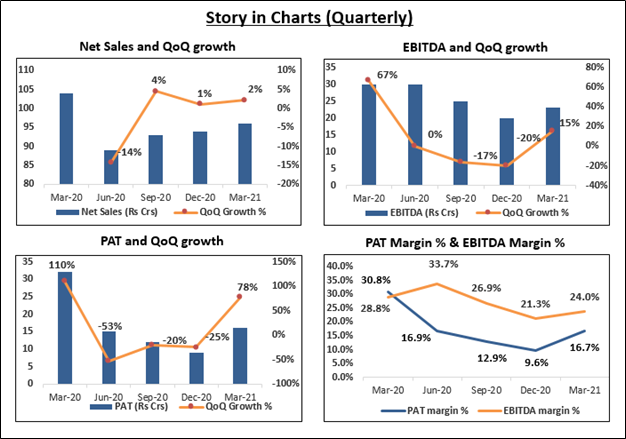 Future outlook:
Making strong inroads in the multi vertical IoT Security space; IoT Security Market is expected to touch $4.5 billion by 2022.
With the launch of HyperSense and progress on IOT-Security, the company has been transitioning towards a Platform based SaaS business model.
Gartner's Emerging Technologies and Trends Impact Radar for Artificial Intelligence in Telecom Report – Sample Provider for Augmented Analytics
Tech Mahindra's collaboration will accelerate the global adoption of blockchain-based solutions for telecom operators.
Partner Ecosystem Management will assist CSPs in accelerating the expansion of their digital services portfolio.
Management Update:
Within the organisation, virtual startups are being incubated in order to diversify into new areas and verticals.
Successful completion of the capital reduction process.
Employee headcount increased from 1050 to 1081 within this quarter.
Subex will combine competencies through its Augmented Analytics platform, HyperSense, and Snowflake to enable enterprises to accelerate their data analytics journey and realise the true value of their data.
Subex Ltd – Financials over the years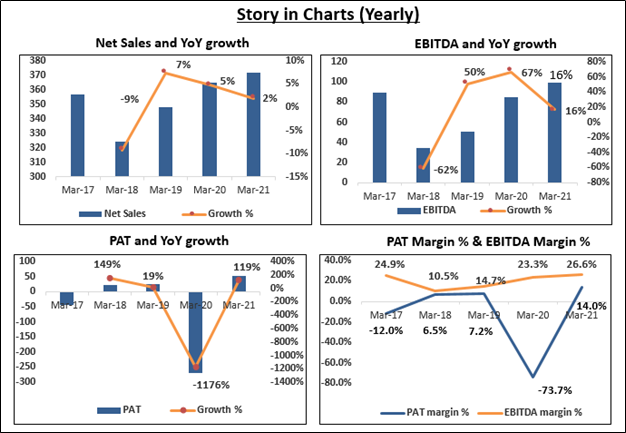 Key Risks:
Subex generates most of its revenue from the telecom sector which makes it susceptible to any off-putting development in this sector.
The company faces client concentration risk as the top ten customers generate ~43% of the Subex's total revenue.
Planned expenditure financed by excessive debt may lead to deteriorating financial risk profile of the company if EBIT or Revenue generation takes a dent in the future.
Technical Views:
Subex looks neutral to positive as per technical setup and has an immediate support at 50 level at 38.2% Fib retracement and then next support comes at 45 level which is the convergence of 50% Fib retracement and Kijun Sen line. Overall setup looks quite positive for a medium term view.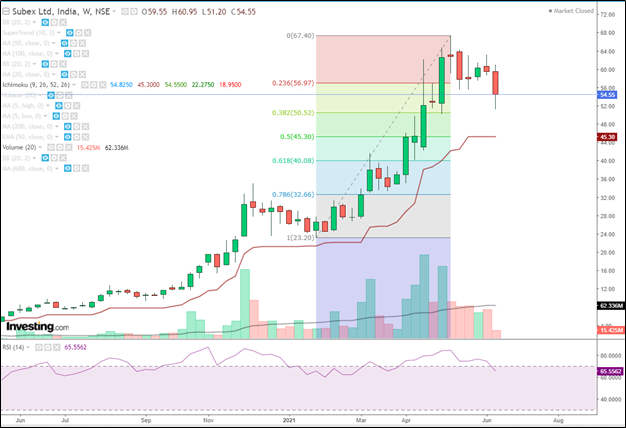 Conclusion:
Subex dependence on a single industry will reduce gradually once their new products start generating significant revenue over the medium term. Though the customer concentration is high, Subex's long standing and established relationships with these customers mitigate this risk. Also, the critical nature and customization of the group's products and services ensures customer stickiness, as switching to a competitor would result in higher costs and time.
Being a leader in Digital Trust space and assisting businesses to thrive by leveraging Digital Trust as a competitive advantage makes it a sound company overall. Having a sticky Revenue Model of about 60% of revenue being annuity based (recurring) and exhibiting more than 98% customer retention.
There has been a significant generation of Free Cash Flow during FY21 after meeting Capex requirements. Investing heavily in newer areas like Digital Trust and AI/ML, Augmented Analytics and Deep learning-based anomaly detection makes the company an innovator in its space. The partnership of Subex and Snowflake aims to bring accelerated efficiency and agility to enterprises and help them innovate and create greater value for their businesses.
Going forward, Subex believes it can grow its core business (~95% of revenues) at 10% while remaining (~5%) new business is expected to grow to US$18 million in coming years.
Know more about Subex Ltd. and its peers by using the Sectors tab in the StockEdge Web
Check out StockEdge Premium Plans.
Disclaimer: This document and the process of identifying the potential of a company has been produced for only learning purpose. Since equity involves individual judgments, this analysis should be used for only learning enhancements and cannot be considered to be a recommendation on any stock or sector.
Also read relevant blogs from the StockEdge blog section.