Among the other trending stocks, we'll look at a company that is one of India's oldest and largest manufacturers of Indian Made Foreign Liquor i.e. Radico Khaitan Ltd. It has emerged as a branded (IMFL) player with a presence across categories over the years, commanding an 8% market share.
The Story

Radico Khaitan began operations in 1943 and has grown from a distillery player to a leading IMFL company in India with a strong brand portfolio.
Born in a traditional Marwari family, Lalit Khaitan was a teetotaler at the time. He had no idea about the distillery business when he paid '16 lakh to Sanjay Dalmia, chairman of the Dalmia Group of Companies, in 1973, with the main goal of "getting out of Calcutta [now Kolkata]."
Back then it was a pure commodity business, supplying branded players with extra neutral alcohol—the primary raw material used to make various spirits. Contessa Rum was the only brand sold to the armed forces. Lalit Khaitan also started a bottling company and became a leading third-party bottler for top spirit makers like Shaw Wallace at the time. However, by 1994-1995, the commodity play in the spirits industry had run its course. Lalit Khaitan was facing the wall. The company suffered huge losses and had huge loan repayments to make.
Besides, the contract with Shaw Wallace had expired, and there was an urgent need for newer collaborations. So, Lalit was eager to see if United Spirits would be interested, but they were unable to assist them as Mr. Khaitan believed this was because Vijay Mallya, who was the owner of United Spirits, wanted a stake in the company, which they were unwilling to give.
That's when Mr. Khaitan decided to launch his own brand.
A hundred new recruits were hired, plans were devised, and the company was renamed Radico Khaitan. On August 8, 1998, 8PM whisky, a mass-market brand catering to India's largest spirits segment, was introduced.
Today, the company owns three distilleries in Rampur, Uttar Pradesh, and two that operate as joint ventures (36% equity) in Aurangabad, Maharashtra, with a total capacity of 165 million bulk liters. The company owns and operates 33 bottling plants in total (5 owned and 28 contract bottling units). It has over 15 brands in its portfolio, including five millionaire brands: 8PM Whisky, Magic Moments Vodka (India's largest premium vodka brand with around 60% market share), Contessa Rum, Old Admiral Brandy, and 8PM Premium Black Whisky which is exported to more than 85 countries. As of today's date, this is Radico Khaitan share price.
It has a strong sales and distribution network, with a retail and on-trade presence in over 75,000 retail and 8,000 on-premise outlets across India.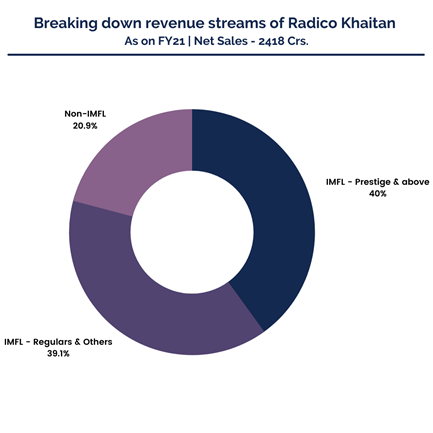 What does the liquor industry look like?
The Indian spirits industry is divided into two categories: IMFL (Indian Made Foreign Liquor) and IMIL (Indian Made Indian Liquor), as well as wine, beer, and imported alcohol. The industry is dominated by whisky by a wide margin. More than 70% of the market is accounted for by the IMFL segment.
Since 2001, the Indian spirits industry has grown at a CAGR of more than 12%, making it one of the world's fastest-growing markets. A slowing economy in 2019 followed by a COVID-19 virus outbreak in 2020 impacted India's liquor consumption. Premium brand demand, on the other hand, was relatively unaffected by the industry slowdown. Consumers have more disposable income, which they can use to have a more enjoyable home experience.
As a result, premium brands are expected to be much more resilient and grow in the near future. India has a massive young population that is migrating towards bigger cities for better jobs and business which will lead to enhanced disposable income, which presents numerous opportunities for industry firms. Improving demographics, lower per capita consumption, a shift to premium brands, and favorable changes in liquor policies in some key states provide enormous opportunities for Indian Made Foreign Liquor (IMFL) players to grow rapidly in the coming years.
Apart from that, there has been a significant shift in attitudes and lifestyle over the last few years, making alcohol consumption more socially acceptable. Alcohol acceptance extends to drinking in family settings, at social events, and by females/youngsters. The variety of alcoholic beverages and brands has increased, with the majority of them readily available at government licensed outlets, government shops, private licensed retail chains, restaurants, pubs, and bars.
Many state governments have now allowed home delivery of liquor in response to the COVID-19 pandemic and to compensate for the loss of sales caused by consumers refraining from purchasing liquor. Retailers deliver liquor directly to customers' homes as well as through intermediaries such as food aggregators and standard technology platforms.
Financials of Radico Khaitan
Radico's revenue has grown 44% between FY17 to FY21— from Rs.1680 to Rs.2418 crores. PAT has grown by a whopping 239% from Rs.80 crores to Rs.271 crores. The growth has been so exceptional that the company's share price has grown by 162% in the last one year. The company has strengthened its balance sheet by reducing total debt. The debt to equity ratio has improved from 0.77 to 0.15 between FY17 to FY21. With an efficient working capital cycle and improved profitability, RKL is expected to be net cash positive by FY2023.
Who is sailing the ship?
The company is run by Lalit Khaitan who is the chairman and managing director (CMD) of Radico Khaitan Ltd. He also serves on the boards of several governments and corporate bodies in India that are involved in the distillery industry. His son, Abhishek Khaitan, has over 25 years of industry experience. It was his son who started the IMFL division and was instrumental in the brand's development.
Road Ahead
The company has no major capital expenditure plans for the near future, and a large portion of cash generated will be used to improve the growth prospects of core brands, develop new premium brands, and potentially increase dividend payouts.
With consumers shifting to premium IMFL brands and the emergence of favorable liquor policies in key states, this will aid in the near to medium-term growth of branded liquor products. As a result, it is expected that RKL's revenues will grow at a CAGR of 17-18% over FY 2021-24. With the contribution of P&A brands expected to increase, the Operating Profit Margin is expected to improve to 19-20% by FY2024. The company's operating profit is expected to increase at a CAGR of 20-22% between FY 2021-24.
That's all from our end folks! We hope you liked our weekend read. Stay tuned for the next blog and keep watching this space for our midweek and weekend editions of 'Trending Stocks". And, if you loved the way we represented Radico Khaitan Ltd.'s story, show us some love by sharing it with your friends and family. Until then, take care and happy investing!