Beauty lies in the eye of the Beholder!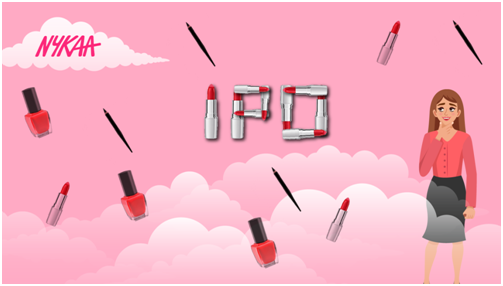 "E-commerce isn't the cherry on the cake, it's the cake" Do you know who said that? No? Jean-Paul Agon, former CEO of L'Oréal (which is the world's leading beauty company) said that!
But someone had anticipated this much before and had already started her new stint in the e-commerce business. Yes, we are talking about Falguni Nayar, the founder, and CEO of Nykaa, who is an example of a successful female entrepreneur who turned the tables and built an empire for herself.
Falguni Nayar was a Managing Director at Kotak Mahindra Capital before deciding to start her own business. After working as an investment banker for 19 years, her desire to enter the world of entrepreneurship was motivated primarily by two factors: her love of makeup and her desire to learn more about the e-commerce platform, which she saw as having a lot of potential in the coming years.
Founded in 2012, Nykaa has emerged as one of the most successful consumer internet start-ups in India. Starting as a pure-play online retailer, Nykaa has diversified into offline retail and now operates a network of 80+ stores across 30+ cities. In 2018, Nykaa ventured beyond beauty & personal care into other categories such as fashion (operated under the brand, Nykaa Fashion) and male grooming, fashion & accessories (Nykaa Man).
Today, it sells over 2,600 brands of everything from mascara and makeup remover to velvety kohl Indian eyeliner and the body tattoo art known as Mehendi.
So, what is actually working for Nykaa?
At a time where most of the e-commerce players like Amazon India and Flipkart are focusing on a discounting-led model that offers the best deals on products, Nykaa's value proposition on the other hand is based on three distinct attributes that differentiate it from competitors: content, curation, and convenience.
Content
Purchasing a beauty product necessitates a high level of consumer involvement, particularly among women. Generally, this is preceded by extensive research prior to making a purchase. Reading blogs, user reviews, and recommendations from social media influencers, for example, or simply talking with friends and family. As a result, increasing product or brand awareness and educating customers is an important component of market development, and Nykaa has used this lever quite effectively to engage with potential customers. Nykaa TV, for example, is Nykaa's YouTube channel, which features videos on a variety of beauty topics. Currently, the channel has over 1.19 million subscribers.
Curation
In order to position itself as a one-stop-shop for all of a consumer's beauty needs, Nykaa has also focused on curating a distinct and differentiated product portfolio on its platform. To that end, it has been a pioneer in bringing several international beauty brands to India through the online channel. Several of these brands are exclusive to Nykaa, giving the platform a significant advantage in terms of assortment.
Ease of Convenience
The company offers 1,000+ brands and has a pan-India delivery reach. For a consumer looking for a tail brand or unique product (e.g. a particular shade in a nail color range) or a consumer living in lower-tier cities, online players like Nykaa provide superior convenience which would be difficult to match for offline retailers.
Getting into World of Fashion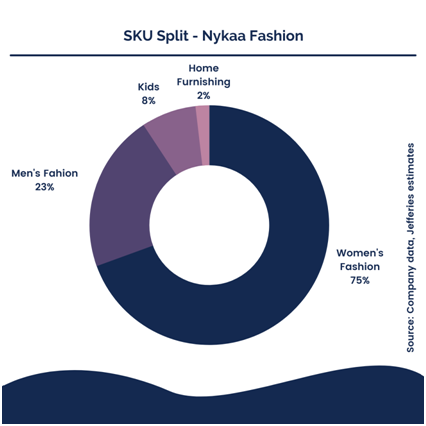 In, 2018 Nykaa Fashion was launched as a separate vertical. Nykaa realized it was time to enter the fashion industry after experiencing great success in the beauty industry. The platform has grown rapidly over the last three years, and it now hosts over 1,000 brands. While Nykaa Fashion sells men's clothing, women's clothing accounts for more than 70% of the platform's SKUs.
Within fashion, the company has a presence across categories ranging from apparel, footwear, bags, shoes, jewelry, lingerie, accessories, and even home furnishing.
Strong focus on profitability
Nykaa has an inventory-led model, where it procures merchandise, sells it on the platform, and manages warehousing and order fulfillment on its own. It also procures directly from brand owners and not any distributor/ wholesale channel, which gives it a somewhat higher intake margin. The company has a policy of not providing customer discounts out of its own pocket, and the majority of schemes and promotions on the platform are run in consultation with the brand and are also largely funded by the brand itself.
Building own private label brands
The company entered the private label market with the release of its nail paint near the end of 2015. It has since expanded its private-label range into several categories and launched new brands in collaboration with celebrities. It has also formed alliances with celebrities in order to launch exclusive celebrity beauty brands.
Getting into Brick & Mortar format for growth
Nykaa started its offline journey in 2015, with the opening of its first brick-and-mortar store under the brand, Nykaa Luxe. The format showcases premium international brands available on their platform and allows customers to experience these brands in person.
A typical Nykaa Luxe store employs trained beauty experts who address customer queries and offer recommendations and solutions best fit for a customer's requirements.
Later, the company opened a second format, called Nykaa On-Trend, which caters to a premium to amass prestige segment. The format has a unique proposition, wherein best-selling products in each category (based on sales, ratings) in a city are showcased in the store. In 2019, a third Nykaa-Kiosk format was introduced which is smaller and largely showcases Nykaa's private labels.
Let's look at the Financials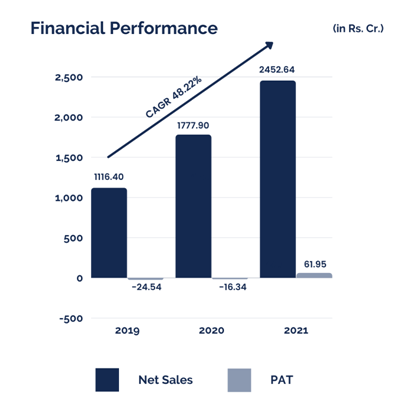 Nykaa's revenue has grown 120% between FY19 to FY21— from Rs.1116.40 to Rs.2552.64 crores. It made Rs 61.95 crore in profit for FY21, compared to a loss of Rs 16.34 crore the previous year. For FY21, it earned Rs 161.43 crore in EBITDA and had a margin of 6.61%. It earned Rs.816.99 crore in revenue during the quarter that ended in June 2021, representing an increase of 183.05% YoY. Profit for the quarter was Rs 3.52 crore, compared to a loss of Rs 54.5 crore in Q2FY21, with an EBITDA of Rs 26.94 crore and a margin of 3.30%. As of today's date, this is the share price of FSN E-Commerce Ventures Ltd.(Nykaa)
What's the purpose of raising money?
The money raised will be used to invest in two subsidiaries – FSN Brands and/or Nykaa Fashion – as well as to open new retail stores (Rs 42 crore). The proceeds will also be used for capital expenditure and investment in subsidiaries such as Nykaa E-Retail, Nykaa Fashion, and FSN Brands, as well as warehouse construction (Rs 42 crore). The funds will also be used to repay debt owed by the company and its subsidiary Nykaa E-Retail (Rs 156 crore), as well as to increase brand awareness and visibility (Rs 234 crore). The proceeds of the OFS will be distributed to the selling shareholders.
Road Ahead.
By 2025, there will be a 10.6 trillion (US$152 billion) market opportunity in India's growing beauty, personal care, and fashion industries. The company is expected to perform well in the beauty product market in the future.
Hey folks, to know whether to invest or not in the IPO of FSN E-Commerce Ventures Ltd., we have a detailed IPO Note on our StockEdge app & website.
If you enjoyed how we presented Nykaa's story, please show us some love by sharing it with your friends and family. Until then, keep watching this space for our weekend editions of 'Trending Stocks". Take care and happy investing!